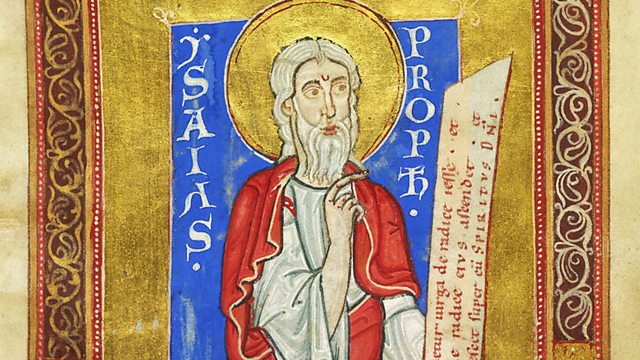 In Our Time: Prophecy
Hello
One characteristic of Thursday's programme was the scholarly calm with which the three contributors discussed what, for many people in many parts of the world, is an explosive subject. Religion. A new factor in our programme is that people tweet us as we go along, and Tom Morris can somehow produce the programme in the adjoining booth and bring in tweets at quarter to ten. A couple of these tweets were from self-described atheists who asked us why were we discussing this subject? Why bother? It was all so irrelevant. It is almost impossible to think of a subject more relevant to so many aspects of life on the planet at the moment than religions. The Islamic movement in its most extreme form is driven by extreme reactions to, and interpretations of, the Qur'an. Issues such as gay marriage are being challenged by reference to the Old and New Testament. The Old Testament plays a major part in the current tension in the Middle East. It bewilders me that people who call themselves atheist – for wholly understandable reasons of not believing in a God, a Resurrection, a Virgin Birth, a Trinity – think that this gives them the right to dismiss a massive body of knowledge which has informed people for almost two thousand years, led to some of the greatest artefacts mankind has ever seen and, for better and for worse, has to be taken into account if we think at all of the past in terms of morality, history and art.
Put that aside. Mona called the Muslims the 'People of the Book'. I thought that that phrase – 'People of the Book' – had been pre-claimed by the Jews. And then later on, in the early seventeenth century, when the Presbyterians from Britain went to the east coast of America in order to worship through their own form of Protestantism, they too became the 'People of the Book'. The Qur'an, Mona said, was the nearest you get to God. The Bible does not fulfil that function, I think, in Christianity and Judaism, but it certainly has been the nearest you get to a revelation of faith.
It's been a switchback week. First seeing the programme on Tyndale go out and being met by – well, more than usual positive reactions. We also managed, on BBC Two, to pip BBC One, which gives childish satisfaction to we arts programme makers. Though it's worth pointing out that neither of those programmes at nine o'clock in the evening on television came within reach of the audience for In Our Time at nine o'clock in the morning on Radio 4. Then switching from the documentary on John Ball to Thomas Paine, we started to film on a wonderfully sunny day in London on Saturday. The Guildhall, Clerkenwell, Westminster, Cecil Court with its bookshops – still the most attractive street in London – and on the way to our second radical. On Monday we went to Lewes, where Tom Paine came of age as an intellectual writing for the local newspapers and forging his early reputation through being a Customs and Excise officer. He led a raw life on the high seas, tackling smugglers, setting up a business, running a tobacconist's (badly), and all the time filling every spare minute with learning.
It's a bit busy at the moment so I won't bore you with the rest, but it did include going to Sheffield, to the great documentary festival where I was talking about arts programmes, and was stunned when I came out of the station at Sheffield by the splendour that those who run Sheffield have made of a town which seemed at one stage to have everything going against it. It looks like a modern European city from the moment you come out of the railway station and this documentary festival is magnificently organised.
And on we go. Next stop Derry, City of Culture, and then Paris to film more of Tom Paine, who was elected to the French Assembly in the French Revolution, who was integral and perhaps even essential to the making of the American Revolution, and who was imprisoned for sedition in London. In Lewes the local brewery, the famous Harveys, there since 1790 in the hands of the same family, has a fine strong ale called Tom Paine. His great patron Benjamin Franklin said beer was invented by God to show that he loved us. They must have had fine evenings together when Franklin got this pugnacious young man over to Philadelphia.
Best wishes
Melvyn Bragg
Download this episode to keep from the In Our Time podcast page
Visit the In Our Time website
Follow Radio 4 on Twitter and Facebook
The BBC is not responsible for the content of external websites