Editor's note: One to One is a new series of interviews on Radio 4 in which broadcasters follow their personal passions by talking to the people whose stories interest them most. The first set of interviews will be presented by Lyse Doucet in conversation with Afghans - young and old, living at home and abroad - to hear their remarkable stories - PM.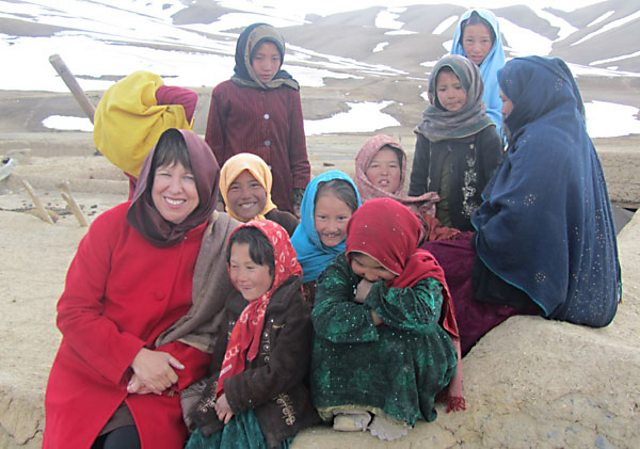 Lyse Doucet in Bamiyan with a group of young girls
Last week it was Damascus. You may have heard me last weekend on Radio 4's From Our Own Correspondent talking about a rare trip by a foreign journalist to Syria.
This week, you will hear me talking about Afghanistan.
It may be madness to travel from Damascus via Amman to Heathrow Airport, go home for a night, unpack and repack, and then go back to Heathrow to fly to Kabul via Dubai. But it doesn't feel like madness. I suppose that's what it means to be passionate about a place.
That's what this new Radio 4 programme One to One is about - the passions of some presenters and correspondents you often hear on Radio 4. We want to share these passions with you. Up to you then to decide if it's all madness... or simply marvellous.
When I was first approached by producer Karen Gregor for stories and people that had captured my imagination that I wanted to share, I sent her quite a long list from quite a few places.
She came back to me after the Editors assembled and said "We decided you should tell us some stories about Afghanistan".
I can already hear you saying "But I already hear about Afghanistan quite a lot."
Yes, it is a place of big mountains with bearded men at the front line firing guns. It's a place where too many British and Afghan lives have been lost in the battle against a Taliban that only seems to get stronger.
It's other Afghan stories from people who have impressed and humbled me, made me laugh and cry, and drawn me into a country that does have an horrific history, and a fragile future.
But it's much more than that.
I first flew into Afghanistan from neighbouring Pakistan on a cold winter's day in 1988. It was Christmas Eve. But all the talk was about Soviet troops preparing to pull out after a decade long occupation. Western embassies were also shutting down, warning that the communist government would topple. It didn't - not until the spring of 1992.
The front desk clerk in a dark, largely empty, hotel on a Kabul hill asked how long I would stay. "Six weeks?" I suggested tentatively.
I stayed nearly a year. I still keep going back.
Over the next four weeks, you will hear some stories Afghans have lived during this time, that I have lived through too.
You'll hear the sadness and joys of a fighter turned diplomat who survived an Al Qaeda attack and lives to see his garden grow.
There's a daughter's pain over losing her father in a suicide bombing, but her persistence and patience in trying to make Afghanistan a better place. That's what the man they call the Murdoch of Afghanistan is also trying to do. In his case, it's about changing a country through TV storytelling including home grown versions of X-Factor and The Office that bring smiles to millions of Afghans, and scandalise conservative clerics and politicians.
Then we'll hear of the dedication of a young Western educated Afghan determined to stay in Afghanistan, no matter how many disappointments and death threats there are.
I sometimes say Afghans are a gift to their friends. They seem to have this knack of remembering the most wonderful details of moments and meetings.
Now they'll share some with you. I hope you'll also find them memorable.
We'll start on Tuesday with Masood Khalili, a poet, the son of a poet, an Afghan who says his life is "10 percent politics, and 90 percent culture".
Lyse Doucet presents the first set of interviews in One to One.