Miriam Margolyes and James and the Giant Peach on 4 Extra
One of the most enjoyable elements of producing The 4 O'Clock Show is the stories - part of my job involves spending bits of the working day listening to children's stories, and choosing content for the programme inspired by those stories.
So it was a real treat to find myself in studio producing what is the first ever story recorded especially for The 4 O'Clock Show. And what a story: a new abridgement of James and the Giant Peach, in its 50th anniversary year, all to be commissioned and read just for us.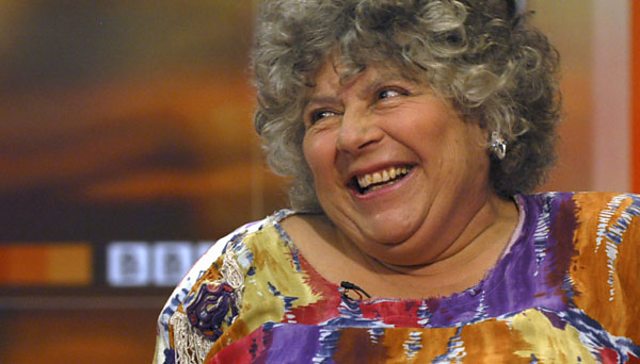 Miriam Margolyes
Doing the honours behind the microphone for our reading is the actress Miriam Margolyes. Miriam played Aunt Sponge and the Glow-worm in the 1996 animation of the book. So we were absolutely delighted when she agreed to revisit the story for us.
At this point, I also have to confess that it's the first full-length reading I've ever produced - a pretty good one to start with, isn't it?
I've been a features and documentaries producer for most of my career, and have recorded many short readings to go in documentaries as illustrations; and I've also produced the winning entries of short story competitions, plus a season of poetry for BBC Radio Scotland, so I'm not completely new to it. But I've never recorded any single reading that's lasted more than five minutes. So this has been an exciting, slightly nerve-wracking, and very rewarding experience.
The person doing the real hard work though, is Miriam. James and the Giant Peach has an large cast of oddball characters, and Miriam has given them all wonderfully different, lively voices.
So part of our preparation was to work out what a Grasshopper, or an Earthworm should sound like. One of my tasks was to sit down and write out a character description for Miriam - she wanted to really think about what type of "person" each of the creatures was.
A character guide for insects is definitely the oddest brief I've had to write in the last ten years.
We did have a fairly lengthy discussion about what the Ladybird should sound like. Ladylike, we decided - there are a couple of times she's described as prim, but as she's James's best friend inside the Giant Peach, she's got to be warm-hearted too.
Listening to Miriam in studio as we recorded was just delightful - hearing the words leap off the page and come to life. Roald Dahl's stories were made to be read aloud - descriptions of the "wild white moon" and the peach "soft and warm and slightly furry, like the skin of a baby mouse" are just so vivid, even more so when spoken.
For Miriam to remember the voice she's given each creature, and bring their conversations to life is no mean feat - she said it was one of the more difficult readings she's done.
And it got more difficult for her.
Ever had one of those sudden onset colds, when your nose gets blocked, your eyes start watering, and you struggle to breathe? Poor Miriam came down with one halfway through part six.
Ever the professional, she was so concerned about doing the reading well that she insisted we put the recording on hold, and return to it a second time when she was well again, rather than sounding stuffed up and full of the cold. So putting herself through having to remember all the voices and characteristics all over again. What a star.
So, Radio 4 Extra listeners - we're proud to present to you, James and the Giant Peach. So good we recorded it twice!
Monise Durrani is the producer of James and the Giant Peach
Read
Radio 4 Extra celebrates Roald Dahl
on the blog More on
The 4 O'Clock Show