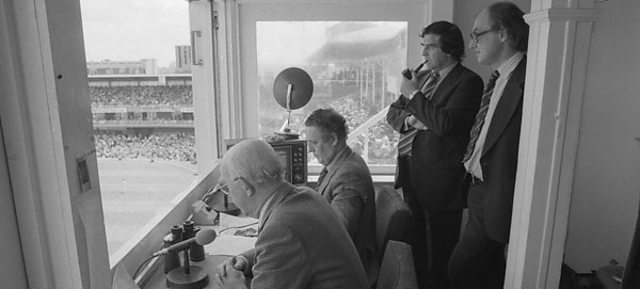 http://www.bbc.co.uk/programmes/b00c67t1
Test Match Special is a favourite programme. I first started listening more or less forty years ago. I remember not only the wonderful Arlott and Johnston - but Alan Gibson and Don Mosey and Alan McGilvray and EW Swanton. Like many others I turned down the TV commentary to listen to TMS - unless Richie Benaud was on TV duty.
That is a bit harder to do now as Sky (who do a very good job I rather think) and TMS are not in perfect sync. Alas.
Of course everyone with an interest in cricket and/or TMS knows of the Brian Johnston corpsing moment - or should that be corpsing minutes. I was listening live at the time. But I have other favourite moments. I do this next bit from memory - and someone out there correct me if this is wrong - but I recollect a New Zealand batsman in the 1970s (perhaps Bev Congdon?) making two successive huge hundreds. John Arlott asked Trevor Bailey what were Congdon's weaknesses. Trevor Bailey replied... "He loses concentration when he gets to 170." Very fine.
Why is TMS so good? Because it is about metaphor and simile - about literature and art, about weather and place - about food and drink - as well as about a great game (though not necessarily a better game than baseball - but that's another story). And we are always looking for the perfect balance between the sporting ingredients and the other delicacies that surround the cricket. Everyone has a different opinion about what that balance should be... and it is an art form. We must not miss a ball but it would be a mistake not to let the team go off piste.
We are in good nick at the moment. The programme of course is now online and on 5 Live Sports Extra but it will long stay a defining part of R4's culture. It will not be a sports commentary programme alone. I am going to see the TMS team on Saturday morning at the Oval. Let us hope the match is still alive at that point. I have an Australian wife and my children have Australian passports and some of them will be with me. I do not know whether I am impartial. I would not wish to fail the Tebbit test. So I shall pray for Freddie's knee.