Feedback: Slut walks and the Moral Maze
I have chaired a couple of editions of the Moral Maze on Radio 4 and it was terrifying - and not just because it was live and not recorded.
Imagine trying to control all those formidable and passionate intellects on the panel; especially when they spend most of the programme with their back to you, facing the witness they are interrogating. (The Maze table is a rectangular one. The panellists sit two aside and the witnesses are at the opposite end to the (quaking) presenter.)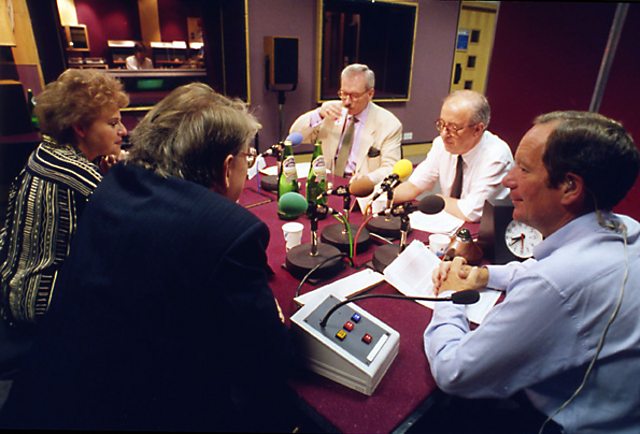 Editor's note (PM): Although this was taken many moons ago it gives you an idea of the set up that Roger refers to. Caption info: "The Moral Maze : 1994 01/01/1994 © BBC Picture shows - (clockwise from front) Michael Buerk, Edward Pearce, Janet Daley, David Starkey and Rabbi Hugo Gryn in "The Moral Maze" (TX: 15, January 1994)."
Michael Buerk seems to have a natural authority which imposes itself on the most recalcitrant panel member. I was reduced to tugging at their elbows and on one occasion told Dr David Starkey not to be rude. I shall never forget the slow motion swivel as he turned towards me, indignation puffing out his cheeks and chest. He'd been described as 'the rudest man on radio' and wore the badge with pride, as Gilbert Harding had done many moons ago.
Dr Starkey is no longer a panellist but Melanie Phillips does moral indignation as well as anyone.
But did she go too far last week when the subject was 'Slut Walks' and the witness she was interrogating was Elizabeth Head from the London Slut Walk?
Here is an example of their exchanges along with views from some Feedback listeners. The stand in chairman is David Aaronovitch.
Many listeners were in no doubt that Ms Phillips had overstepped the mark. Actually I am being too polite.
One listener accused her of being 'absolutely obnoxious, sneering, personally insulting and patronising in the extreme', and that was just for starters.
The executive producer of the Moral Maze is Christine Morgan who is also Head of Radio Programmes at the BBC's Religion and Ethics Department. I asked her if she thought Melanie Phillips had gone over the top?
Also in this edition of Feedback I talked to the Controller of English Regions, responsible for local radio stations and having to repel cost cutting boarders as the BBC works out how it can adjust its spending to the reduced licence fee.
Next week I will be in Carlisle, visiting Radio Cumbria to see whether it truly serves its community and where savings might be made. They are hosting a phone in with their editor Nigel Dyson and myself and will be taking calls from their listeners but I'd like to hear from you as well if you have a view on local radio. If you'd like the chance to take part in that phone-in you can ring 0845 3051122 any time between 9 and 10am on Tuesday 31st May, you'll be charged at the local rate from a BT landline but calls from mobiles will vary between operators. We'll be broadcasting the best bits in next week's Feedback.
Or email me at the usual address, Feedback@bbc.co.uk, and tell me what you think of local radio or any other BBC radio station.
Feedback also wants to hear from Britain's young radio critics. Do you listen to the radio? Do you have opinion about it? We want to know what you think! If you are aged 13 or under then send us no more than 250 words saying what you love (or hate) about any BBC radio programme. You can write to
Feedback,
PO Box 67234,
London SE1P 4AX
or email feedback@bbc.co.uk. Please include contact details for your parent or guardian. The deadline Monday 6th June.
Roger Bolton is the presenter of Feedback