Searching for our lost minerals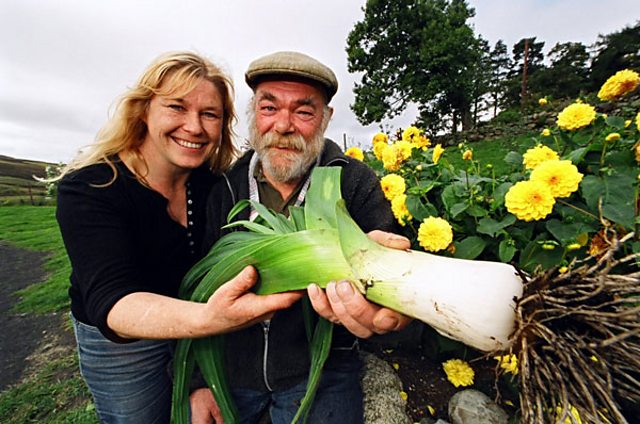 http://www.bbc.co.uk/programmes/b00mw2nk
Drive through the southern Highlands between Braemar and Pitlochry at this time of year and they look pretty bleak. After thirty miles of bleached heather it comes as a shock to see a splash of colour on the horizon. Drive closer and you come to a couple of acres of luxuriant vegetation on an exposed hillside, 1000 feet above sea level - trees heavy with apples as big as your fist and storybook-sized turnips bursting from the soil.
For Costing the Earth we've set our new presenter, Dr. Alice Roberts - fresh from TV's 'Coast' - the challenge of tracking down the minerals we've lost from our staple foods in the past seventy years. Perthshire growers, Moira and Cameron Thomson are convinced they've found them again, languishing as waste in their local quarry. By adding rock dust they believe they can mimic the action of ice ages, recharging the soil with the vital minerals that should make their way into the fruit and veg they grow.
Alice and I tucked into some incredibly sweet gooseberries and munched on freshly pulled endive while Cameron pulled parsnips out of the ground, in search of one big enough to really impress us. Giving up, he took us back into the farmhouse to show us a frozen head of broccoli that could feed a family of five for a week. Over coffee Cameron took pencil and paper to explain his theories of geological shifts, climate change and shifting ice sheets. There's nothing Alice likes more than a good scientific argument so I sat back and sipped my coffee as they tore into each other over the crashing impact of ice sheets on the Highland landscape.
When I finally steered Alice back to the car Moira waved us off with the news that the inspiration for their theories- and their vocation over the past twenty years- came from a Radio 4 programme they heard in 1983. I'll leave the scientists to judge the detail of their ideas, but if Radio 4 inspired those gooseberries thriving on a blasted hillside then we've contributed just a little to civilisation.
Alasdair Cross is Producer of Costing the Earth
Costing the Earth - The Great Mineral Heist is broadcast at 0900 on Monday 28th September and repeated at 1330 on Thursday 3rd October.
Farming Today covered the soil depletion story this morning at 0545. Listen again.
The picture shows Moira and Cameron Thomson and is used with their permission.