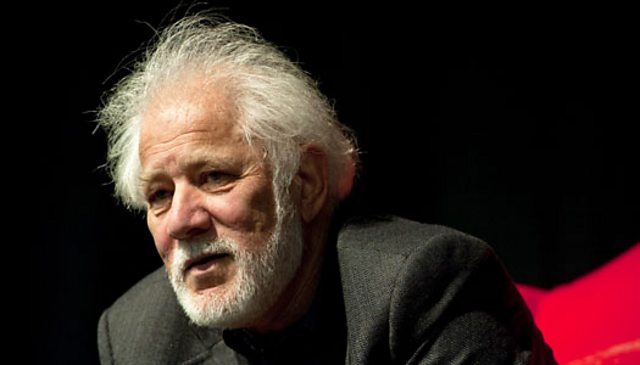 The point about The English Patient is that the patient isn't English. He is a Hungarian count, but his identity has gone, burned away by the injuries of war when his aeroplane crashed in the Sahara desert. He told his Bedouin rescuers that he was English and that was what he remained. We meet him in an Italian villa where he is being nursed, and Michael Ondaatje's novel turns his hidden character into an unstoppable force, changing everyone who comes in contact with it. Although Count Lazslo Almásy's body is broken, he is a powerful source of emotional energy. Ondaatje told this month's Bookclub readers (Sunday 5 August at 4pm) that the story began simply, with the idea of a conversation in the night between a nurse and a man lying in a bed. That was all. Then, gradually, his background began to swim into focus - the war and the desert, the accident that nearly killed him. How was he burned? Then - who is the Canadian nurse Hana? What will happen to them as he tells his story?
"My books tend to go forward in plot, but backwards in an archaeological way, to find out what happened before," Ondaatje told us. He works slowly - the book took six years to write - and methodically. Piece by piece the story comes together, without any grand plan pinned to the wall that he can follow like a map. In The English Patient he brings back two characters from a previous novel, In the Skin of a Lion, because they seemed to fit, and above all because he liked them. He'd been sad to see Hana go, so back she came. So did Caravaggio, who is a spy, and has come to the villa on the trail of Hana. With Kip, the Sikh who is a sapper in the British army, and who searches for the bombs with which the area is mysteriously booby-trapped, they start to spin their tale.
As Ondaatje explained, there are two worlds brought together in the novel - Renaissance Italy, whose spirit still survives in the faded villa, and the empty desert, a place where every sand dune has a character of its own and every wind has a name. The count was an explorer, and the story is like a journey into the unknown with the only certainty that there will always be another secret to be unlocked. As he writer, Ondaatje began as a poet.
"Writing fiction brought what I love about poetry into fiction," he said. "Some novels declaim," but he wanted poetic intimacy. "The patient talking to a young nurse at night has that whispering element - poetry suggests much more than it gives you." He described it as a shaved-down quality in his fiction. He'd rather leave a suggestion than reveal the whole canvas.
The consequence is a hypnotic effect. Although Ondaatje takes great trouble to paint a background that feels solid - he used real stories he'd picked up in Cairo about the war in the desert, and pieced together the Count's expedition from historical accounts of cartographers' exploits in the Sahara - he still feels that he is a poet.
And of course our readers wanted to probe the question of identity. He's a Canadian citizen, of Sri Lankan Tamil extraction. Wasn't it therefore inevitable that nationality and identity would fascinate him? But no. "That's the last thing on my mind. I'm interested in character." That's why we come to care about the man who has no identity left. I hope you enjoy the programme.
Our next Bookclub, on 2 September (repeated on Thursday 6 September) is with Victoria Hislop, talking about her first, wildly-successful novel, The Island.
Our next recordings are with David Almond on Skellig, in Newcastle; Sathnam Sanghera on his memoir The Boy With the Top Knot, and Andrew Miller on Pure, both in London. Full details of dates and how to apply for free tickets are on our website: www.bbc.co.uk/programmes/b006s5sf
Happy reading.
Jim
Jim Naughtie presents Bookclub