In Our Time: Japan's Sakoku Period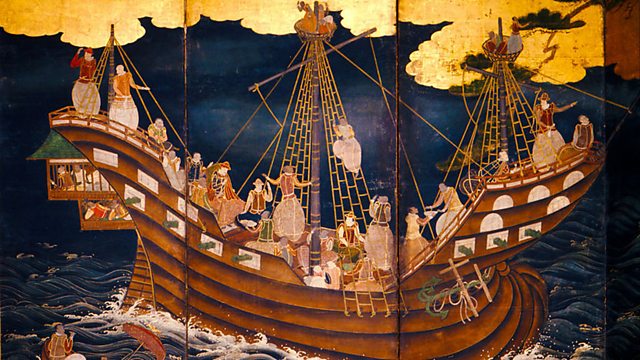 Japan's Sakoku Period
Hello
After the programme we tried to work out the reasons why Japan had not put in place a systematic programme for translating Western technology, as it were, into Japanese. They'd done that with several other ideas. They've certainly changed since then! They're now building our trains. As you would expect, the man who initiated train-building in Japan got his ideas and information and everything he needed from a long visit to England. He also decided to set up a nationalised system because he thought the English, Victorian way of having several competing networks made no sense at all.
They also pointed out what a fairly nasty place Japan was around the edges in that period. The Samurai, we're told, were always threatening figures, rather like the Taliban in Afghanistan, it was said, making the lives of any foreigners miserable with their prodding swords and threats.
Out into London after a talk with the great Mark Lawson on Rembrandt's self-portraits, and once more into the land of mobile phones. Dickens was a great London walker. He was also a constant visitor to Bedlam and other (what were then called) lunatic asylums. What would he have made of people drifting around the streets, apparently talking to themselves and ignoring everybody else? It does seem something from another planet sometimes, when you look down an entire stretch of shops and see everyone drifting in and out with a mobile pressed to an ear, or walking past you, talking loudly into a microphone that it's hard to discern. Dickens would surely have thought that we'd all gone insane.
The novelist PD James has a great deal of Dickens about her. I met her the other night in the courtyard of the Royal Academy. It was a grim, drizzly, cold night and she was solitary in that great courtyard. We were both going to the same party so I took her in and we stayed there for an hour together, nabbing a corner table and talking about silence in the middle of a congenial din, which was marking the birthday party of Anthony Smith, former President of Magdalen College and a close colleague from BBC Lime Grove days. I can still see her, grey-haired and rather hesitant, and somehow, not lost, but isolated in that space.
Off to the Lakes last weekend which were so beautiful. Yes, a lot of snow, but picturesquely scattered on the hills and expertly heaped to the sides of the roads in our part of north Cumbria. But bright, last of the winter sun and sometimes even blue skies. One evening, coming back from a solitary walk, I stood and watched a sunset across the Solway Firth. The sun was low in the sky, with bruised clouds above it and the sea below. It was a boiling, golden, copper colour. To the south was the Skiddaw range of fells, snow-covered, somehow immemorial, quite a moving contrast. Though why did I automatically reach for the word immemorial? Of course they aren't. Not even the fells of Cumbria.
Best wishes
Melvyn Bragg
Download this episode to keep from the In Our Time podcast page
Visit the In Our Time website