Ed's note: Radio 4's Bookclub is on at 4pm this Sunday 4 December and is repeated on Thursday 8 December 2011 at 3.30pm. You can also listen online after broadcast or download the podcast - PM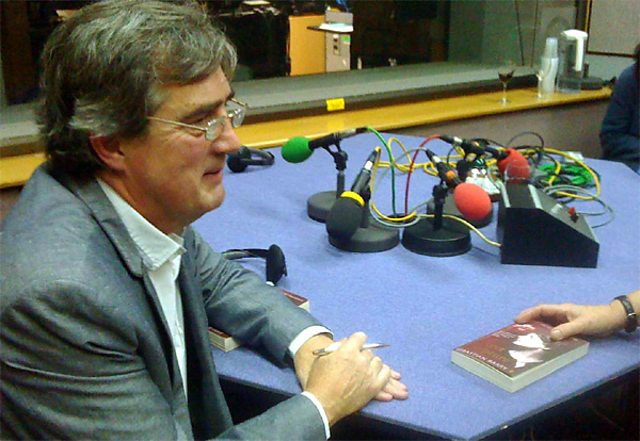 Sebastian Barry, author of The Secret Scripture
I'm in danger of slipping into cliché with this newsletter, but you may understand why. There is something about Irish writers.
So many of them are unafraid to speak poetically about their craft and, instead of trying to explain the nuts and bolts of their writing, to appeal to their readers' feelings for the romantic and even the mystic. This may seem a little trite, but I'm afraid after our Bookclub session with Sebastian Barry it is nothing short of the truth.
Not only is he a lovely writer - we were talking about The Secret Scripture, and many of you will know of his current novel, On Canaan's Side - but he talks with a beguiling passion about what moves him, and his sense of memory and loss which are the feelings the sustain the story.
There is a mystery - and a revelation - which, in traditional Bookclub style, I shall not reveal, for fear of spoiling the enjoyment of some of you, but there is plenty to say without that. (Radio 4 Bookclub this Sunday 4 December at 4pm, and next Thursday 8 December at 3.30pm and online too.)
Sebastian Barry tells the story of an old woman, Roseanne, who is writing down her account - it's the secret scripture of the title - of the traumatic events that were the break with Britain after 1916, and the Irish civil war that followed in the early 20s. So in telling her own story, which has brought her in the end to an old-style asylum, she is also painting a portrait of her country - its twentieth-century political origins, its customs and languages, and its hidden agonies. Her psychiatrist, Dr Grene, is drawn to her and it's the working out of their relationship that carries the book along.
Sebastian, who talks like a poet, revealed that the title came from a poem which allowed him to rescue the sacred word 'scripture' for the vernacular - a sonnet by a nationalist poet, Thomas Kettle, who wrote it in France during World War I for his daughter at home, sensing that he would die (which he did).
Know that we fools, now with the foolish dead,
Died not for Crown, nor King nor Emperor -
But for a dream, born in a herdsman's shed,
And for the secret scripture of the poor.
He told us that he was intoxicated by the writing of a book which no-one would read - Roseanne kept the manuscript in a hiding place under the floorboards and intends it entirely for herself. The revelation of its existence is an important element in the sheer excitement of the story, and it adds to that feeling of being inculcated into a private world of one family with all its ambiguities and secrets, such as we all have to some degree.
During the writing, his own mother died. During her illness, he would come home after visiting the hospital and return immediately to check that she was still OK.
"It gave me an enormous sense of appeasement that there's a cable between you and your mother that's buried so deep no bulldozer of ordinary life can trouble it. I felt it was a graceful thing. It fed into the book - the whole idea of mother and son, the enormous distance, coming stormingly together."
He spoke about the secrets that swirled around his own family - everyone had two or three, he said - and one of the absorbing qualities of the book is the difference between Roseanne's recollection and Dr Grene's own effort to establish how much of it is true and how much imagined, or altered. He has to use the memory of the fallible and not very nice local priest Father Gaunt to help in this task, and decides that although the priest's may be less fallible it is also less appealing.
"You can make up an account of your life willy-nilly or unbeknownst to yourself it will serve you well."
Of his own writing, Sebastian Barry revealed that he couldn't really read or write until he was 8. And nobody, including him, was bothered by the fact. The family was one of storytellers, so it hardly mattered.
"When I'm working, the English of the language comes from those ancient days when I wouldn't write at all."
We talked about the civil war, and the church, and de Valera, and the way that more than once he takes a character from one book (Eneas McNulty) who turns up in another:
"I allow the amorphous thing to happen."
Why should it matter? I reminded him that he was a novelist, not a historian.
"They sing to each other and they are at ease with each other."
That phrase gives you a hint of what the conversation was like - natural, uplifting, poetic.
We had a good time, and I do hope you enjoy the programme.
I should let you know about our next planned recording for which places are available - Alan Hollinghurst on January 23rd in London when we'll talk about his book The Line of Beauty. Go to our website for details about tickets.
And before that a special treat for New Year's Day.
Hunter Davies on the only authorised biography of The Beatles, written in the sixties when he was the first writer to be able to spend a long time with them. The story, with an updated introduction, is a vivid memoir of happy days. We recorded it, for the sake of authenticity, on the site of the Cavern in Liverpool. For some of us of a certain age, a treat.
Happy reading
Jim Naughtie presents Bookclub