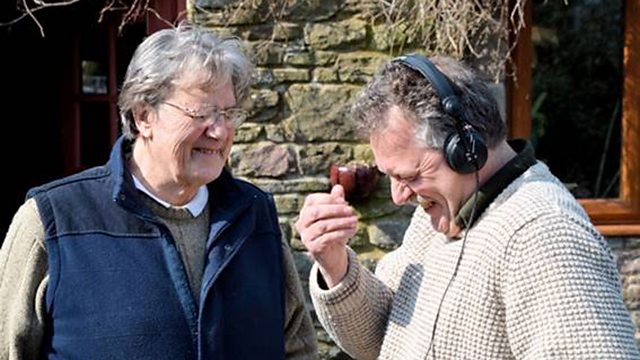 David Pownall and Mike Greenwood
"Turn right into the village street, there's a big tree by the cottage. If you get to the castle, you've gone too far"
My journey to interview the writer David Pownall took me to a village perched high above the Wye Valley with its ancient castle of King John. His house betrays something of the journey he's made here from his roots on Merseyside: wooden sculptures from his time working in Africa; some of his many awards for stage and radio plays hanging next to photographs of the Severn Estuary by his wife, Alex. In the stone-flagged kitchen, the sound of a baroque choir betrays his passion for music and his love of sound.
Pownall is one of the most diverse and prolific writers working today, producing a stream of novels, short stories, stage plays and over 60 radio plays – a medium he has made his own. Many plays are characterised by a fascination with creativity – particularly the lives of composers (he's written two plays about Elgar), an intense preoccupation with History, a tough sense of humour and memorable characters. Now to mark his 75th birthday, Radio 4 Extra is re-broadcasting a selection of his plays specially written for radio.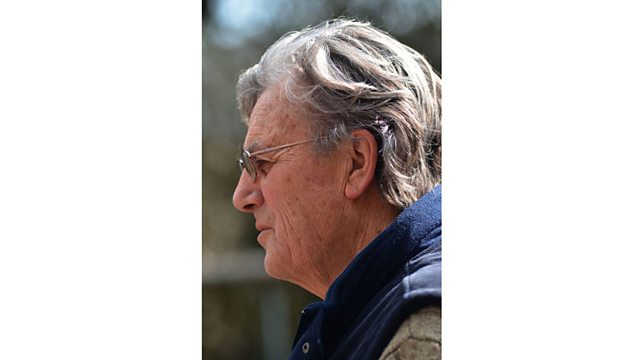 We talk about family life on wartime Merseyside – his hard-drinking grandfather, the death in action of his father in North Africa, the impact of power and politics on the lives of ordinary people. Much of this appears in plays like Under the Table. So too, does his early love of radio: family listening to Tommy Handley was the inspiration for the surreal comedy Blitzma where Goebbels tries to produce a Nazi version of the popular BBC show ITMA.
He reminisces about his time working in personnel management in the copper mines of pre-independent Zambia – a great laboratory for observing the quirks of human behaviour and his first chance to write plays. Forty five years later, Africa features again in one of his radio plays – Nyama – a comic tale of a whale preserved in formaldehyde exhibited round the continent.
Returning to England he became immersed in theatre – first with the Century mobile theatre, then with the newly established Duke's Playhouse in Lancaster where he worked with actors like Harriet Walter, and the company he co-founded to produce his own work, Paines Plough (a title derived from the beer at a local pub).
His passion for history seeps into his work and our conversation: Pownall is amused that an early play about the uses and abuses of history, Richard III Part 2, has been given renewed relevance by the rediscovery of the King's corpse in a car park in Leicester. Flos, an epic story of a medieval stonemason and Hard Frosts in Florence, a powerful monologue about Michelangelo starring Paul Scofield, both feature in 4 Extra's season of plays.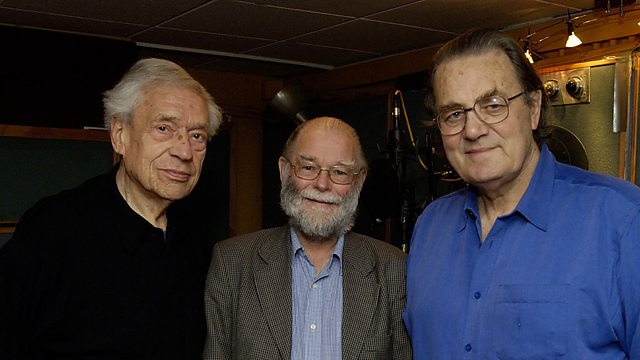 David Pownall with the Director, Martin Jenkins, and the late Paul Scofield.
Above all what emerges is his inventive and mischievous exploration of sound theatre on radio, exemplified by a play like I want to go home. Taken to its Anglo Saxon roots, the phrase becomes a family of individuals – Ich, Willa and  their children Hame and Gang – suffering trials and tribulations as language and history evolve bloodily together.
Less of a retrospective, more of a report on progress, the season celebrates the work of a man who continues to pour his passion for words and sounds into new work.
Further details of plays featured as part of the David Pownall Season can be found here and also via the Radio 4 Extra Schedule.
The BBC is not responsible for the content of external websites