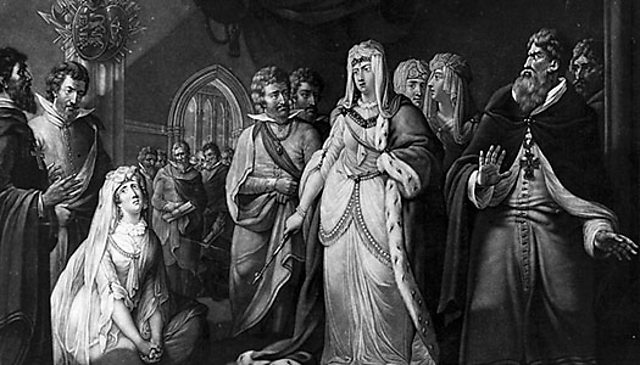 Hello
Our head of department burst into the studio after the programme, full of enthusiasm for it, but anxious to know what had happened to the Empress Matilda. Well, she lived to a ripe old age in Normandy and did many magnificent things, and is thought in the parts of Europe she touched to be a formidable woman and not written out, as she is in this country, largely as an over-arrogant, over-obdurate, Germanically-trained person.
It is wonderful to look back on the Middle Ages. You forget how much it was a warrior society at the top and how keenly warriors waged war on other warriors. That, after all, was their raison d'être. That's why they were fed better, and put on horses to be higher, and given armour and swords to look and act stronger than anybody else.
Out into London, first for another meeting with Tom Morris about our imminent series on culture over the last hundred years, and then down into Regent Street and New Bond Street, on the way for a haircut. Everywhere in central London now the crowds are so numerous that walking on the street itself is a preferred option. There will very soon come a time when pavements are separated into channels - as happens at airports - and we all move through in our narrow, little, controlled lanes, probably with people with megaphones bellowing out "hurry on there" or "slow down there". You read it here first.
Westminster is almost at a standstill with the global village that turns up to see our parliamentary headquarters. In the House of Lords there was a debate on the future of the police and I was struck by two things. First of all, the ferocity of the attack on recent examples of police corruption; secondly, by the high level of debate and the high information content of people in the Lords who knew a great deal about the subject. In many respects it was the House of Lords at its best, but one speaker did say rather plaintively "is there nothing good to be said about the police?" and I think that was a fair comment. On the other hand, there was a root and branch atmosphere which does credit to our democracy.
Last night I opened the Affordable Art Fair on Hampstead Heath. The affair was in an instant tent, the size of three or four ballrooms, which was on the site recently vacated by Zippos Circus, and before then the site of the four-times-a-year funfair, and before then the finishing point for many a charity run. I was doing a sort of charity run when opening the Affordable Fair. Those who run the fair have a preview night in which they favour one local charity. This time it was the local library - Keats Library - which the local community took over last April to tremendous effect. Two thousand subscribers already and going strong with that ready army of volunteers all over this country, which doesn't need to be told it's the Big Society or that it's One Nation. They just get on with it.
The lights are up in Oxford Street and Regent Street. They were up a couple of weeks ago but I didn't want to mention it, not because I am curmudgeonly about lights going up too early but because they obviously remind me of Christmas, and they also remind me that Christmas keeps coming round faster and faster.
But it was a Matilda day. "I liked the Matildas," said three baronesses (not in chorus but independently). In St James's Park (please believe me), at a time of what seemed global half term, one French teacher - it must have been - called out to a young girl "Matilde!" and she turned around and sped towards him, looking exactly like the Matilda in the hit show in London. Matilda is back in town.
Best wishes
Melvyn Bragg
Download this episode to keep from the In Our Time podcast page
Visit the In Our Time website