Ed's note: This Sunday sees the 70th anniversary edition of Desert Island Discs, where Sir David Attenborough, in the company of Kirsty Young, chooses his eight tracks, book and luxury item. Here producer Leanne Buckle reflects on her eight years on the programme - PM.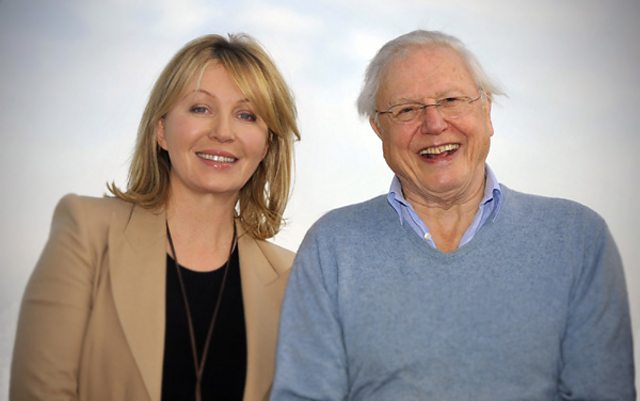 Leanne Buckle writes:
"After seventy years of gulls and gramophone records, Desert Island Discs is celebrating its birthday.
As well as our wonderful anniversary programme this Sunday, Kirsty will also be presenting Castaway - 70 years of Desert Island Discs at 8pm on Radio 4 this Saturday evening. So, as the anniversary has neared, in the office we've been pondering its remarkable staying power.
It is a perfect format - who isn't interested in the richness of human experience? It promises inspiring stories and personal memories, often triggered by the individual and meaningful music choices. They're very important of course, but over the eight years that I've been producing the programme, it seems to me that what the programme also offers, in an uncertain world, is rules.
Anthropologically, I wonder whether we don't need the notion of rules to survive - we like the idea of acquiring a moral boost from sticking to them (and perhaps even more, we like knowing transgressors are duly punished).
I'm probably asked more about the rules than anything else - and the implication is always that we don't apply them strictly enough. How impractical should the luxury item be? How much shelf space can a bespoke book occupy?
Of course, the point of asking our castaways for their luxury and book is to acquire further insight - a slender volume of poems by one author tells far more than a fat compendium of a thousand verses.
Our castaways are heart-warmingly inventive when it comes to bending the rules (Vikram Seth isn't the first to try to smuggle another person onto the island, but to try to take someone else, in addition to an elaborate set of calligraphy equipment is decidedly cheeky.)
Nigella Lawson took liquid temazepam and David Walliams a loaded gun. both thinking they might want their stay to be a finite one - a fascinating insight, but are they luxuries? We take a firmer line now against radios - but there are stacks already on the beach.
If anything, it feels as if we're saying "no" more than we used to -but still, the island is piled high with survival guides, penknives, cooking equipment and mosquito nets - and also boasts a good number of boats bobbing nearby.
Often the luxuries tell of the optimism of the human spirit - scores of pianos, violins, trombones and a brace of violas - our castaways are a self-improving lot. Languages too - any number of books taken 'in the original' as well as French, Spanish, Latin and German primers - how uplifting, I think, that in a situation where there is no-one else to talk to - our castaways resolutely hope they will master a new language.
Search our website to see what else has been smuggled on and ponder too whether, if you were being cast away, you wouldn't ask for your family photo album but also try to slip something actually quite useful in your pocket.
Even our wonderful 70th anniversary castaway, Sir David Attenborough, not a stranger to the shores of our island, will be cribbing from a survival manual (and if he needs help from a text-book, heaven help the rest of us)."
Leanne Buckle is Producer, Desert Island Discs