Lenny Henry Plays Othello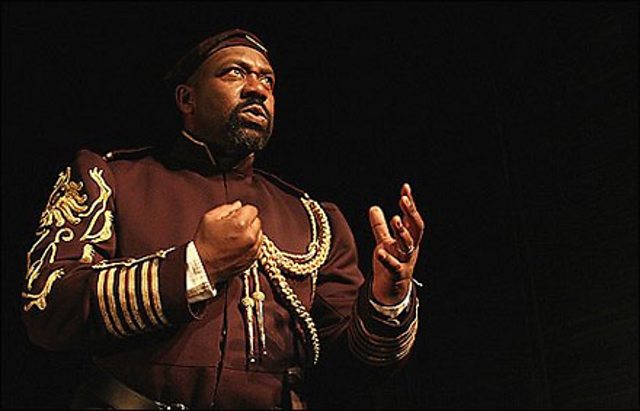 On Saturday I was told The West Yorkshire Playhouse/Northern Broadsides Othello with Lenny Henry in the title role is coming to the West End in London in the autumn. I am particularly thrilled.
I saw it on its last night at the Playhouse and liked it a great deal. (It is currently on tour). I thought Lenny was terrific. In his normal comedy incarnation I had not noticed just how good a voice he has - a big and very clear bass. I caught every word of his Othello and felt keenly - and in turns - Othello's power, insecurity, jealousy and rage.
There is an intimate Radio 4 connection to this production and to the casting of Lenny Henry. Three years ago our celebrated documentary maker, Simon Elmes, approached Lenny and asked him whether he would do a programme for Radio 4 about his long-lasting aversion to Shakespeare. Lenny - who by then had begun to see the point of Shakepeare - agreed and together they made a terrific programme ('Lenny and Will') which showed Lenny grappling hard with - among other things - iambic pentameter, breathing and timing.
Those taking part included Sir Peter Hall, Dame Judi Dench, Sir Trevor Nunn, Adrian Lester and Barrie Rutter, director of Northern Broadsides. In part two, Barrie talked to Lenny about how best to act Othello's last speech - as he dies. Barrie was impressed by Lenny's efforts and suggested he should have a go for real at Othello - on stage. Last year Lenny succumbed to Barrie's offer.
Lenny agreed to do keep an audio diary for a few months as he studied the text and rehearsed with the company. This formed the spine of a programme ('Lenny Henry Plays Othello') that we transmitted just before the run began in Leeds in February. It was clear that Lenny was mostly very frightened, on occasion euphoric, and sometimes ill (his blood pressure shot up). We trailed the programme of course - but no more than we trail a top priority in any other week. I was pleased that a Radio 4 project featuring one of Britain's great comedians had been transformed into so newsworthy an arts story.
I was nervous about the reviews, and relieved that most of them were very supportive of Lenny's efforts. We did nothing to choreograph the considerable coverage of Lenny's Othello by the newspapers and other broadcasters. Nor did I force other Radio 4 programmes (including Today) to do the story. Indeed I was sometimes irritated by reports or articles that failed to mention the R4 genealogy of the production. But we were nevertheless criticised by some for the amount of news columns or broadcasting minutes devoted to previewing or reviewing the production.
There was a Feedback item about all of this with Simon Elmes - and I note that one or two of you on the blog cite the February programme as an example of Radio 4 overkill. I hope I have now explained how it all came about and why so many of us here are delighted with the way it's turned out. I am not shy in recommending the production. And I am looking to see how to run all three of Lenny's R4 Shakespeare programmes before the West End run begins - and, yes, they will be repeats!
Listen to Lenny Henry Plays Othello: