Pilgrim, episode three: The Lady in the Lake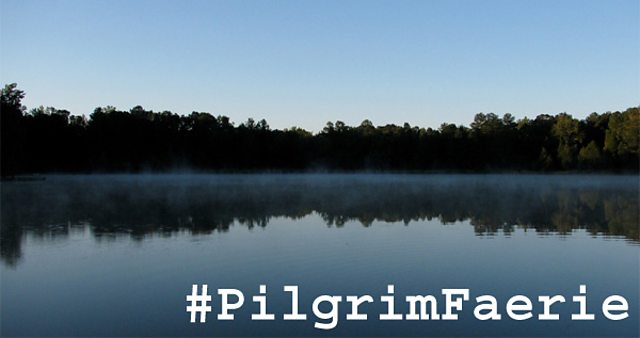 http://www.bbc.co.uk/programmes/b00tj82m
Editor's note: Marc Beeby is Co-Producer of Radio 4's dark, myth-inspired drama series Pilgrim. He's keeping a production diary. Here's part three - SB.
A difficult start to episode three. One of our actors has been forced to drop out for personal reasons. Fortunately, Claire Price, who was in episode one is free and agrees to do it, but can only manage one of the two days, so the recording schedule is tight. Fortunately, she's so marvellous we get through what we have to do with no problem.
This is a really interesting episode to make for slightly different reasons to the usual. There's a lot to acting in radio. You've got to think about your character - what they're like, how they sound - you need to listen to what other characters say to you and respond accordingly, you've got to find something imaginative to do with the director's sometimes baffling instructions, you need to know where you are in relation to the mic, how loud you need to be, when you need to move and, of course, you mustn't make a noise when you turn over the pages of your script! And all this happens incredibly quickly.
In this episode we've got three young actors doing their first professional radio jobs, all doing important parts. Understandably, they're a bit nervous. But one of the great things about making radio plays is that, more often than not, experienced actors are wonderfully willing to help their younger colleagues in all sorts of ways. This is definitely the case here. Paul, for instance, has a scene where he not only helps the young actor by talking about the characters and the play as a whole, he also, during the recording, demonstrates tremendous acting generosity in his timing, his non-verbal reactions and the way he sets his lines up - all of which give his young colleague something to work with. In other words, he helps him be better.
So while the acting more or less takes care of itself, we can deal with how to turn a lake into something malevolent, and how to create an under the lake palace. Most of this we'll construct when we get into the editing and can add effects (there's a recording of water dripping in Wookey Hole that is really useful!). The trick in the studio is to try and get the actors to do things that will work well with the effects you have in mind. And this needs imagination on everyone's part.
So, if you want to show a character being irresistibly drawn into a lake, it's not enough to put on the sound of someone splashing about, we've also got to hear the effort in an actor's voice as they wade into the water. If we want the lake to emit something that knocks a character over, they're going to have to react to an imaginary blow, fall over, recover etc. And all with no lake, no water, no evil entity. Apart from the director.
Marc Beeby is Co-Producer of Pilgrim