In Our Time: Romance of the Three Kingdoms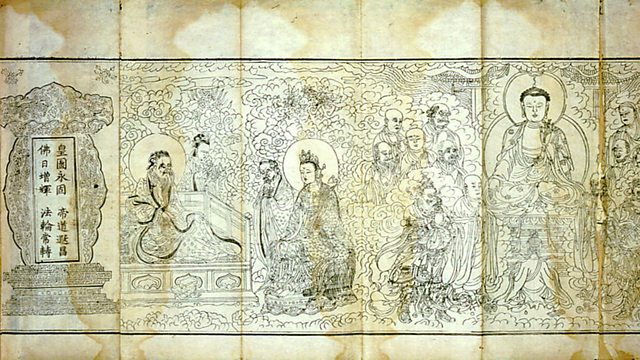 Romance of the Three Kingdoms
Hello
One of the things we talked about afterwards was the gender imbalance in this novel. Yet there are many charismatic women in the book, according to Margaret Hillenbrand. But the problem is that they are always attached to a man. They are always somebody's wife, for instance. The imbalance continues into the games which are based on this book, the hundreds, it seems, of different "boy games". Just that. Only 20% of those involved in these wildly popular games are female. I think it was Frances Wood who said that the plot was very like some of Shakespeare's political plays. And it was again emphasised how enormously popular this was still. In 2008 there were four films based on this book and three TV series.
It's difficult to think of a book which was published 600 years ago influencing modern-day politicians as the Romance influenced Mao Zedong. Answers on the back of a stamp please. This throughness and thoroughness of Chinese culture is still both a curiosity and slightly awe-inspiring.
One other thing worth mentioning. Margaret Hillenbrand's mother Carole, Professor of Islamic History at Edinburgh, took part in a programme we did about the Third Crusade some years ago. I think this is the first time two generations of the same family have been guests on In Our Time.
I am dictating this from Philadelphia. The day has been full of 90 degree sunshine and cloud-clapping thunder showers. But I'd like to do a segue. Probably never before attempted in the history of the newsletter. And the segue is through beer. We're making a film on Thomas Paine who was brought over to Philadelphia by Benjamin Franklin, and when we went out for a snack and a beer last night we went into the place in which Franklin and others met for intellectual company, which was very self-consciously led at an extremely high level in Philadelphia before and after the Declaration of Independence. Anyway, revenons à nos moutons. Or rather, à notre biere. Franklin, it turns out, with his compulsion for invention, had invented a recipe for beer. (So had Thomas Jefferson; it was quite the craze. As a matter of fact it still is in this neighbourhood, I'm told.) But the important point about Franklin's beer is that it is ABSOLUTELY TERRIFIC! I shall bring the recipe back for our producer Tom Morris and he can experiment, though not perhaps on BBC premises.
So there we are. Knowledge aboundeth and is gathered in and that's it from your transatlantic correspondent.
Best wishes
Melvyn Bragg
PS:  What's the use of half a story? Benjamin Franklin's ale is called Poor Richard's Tavern Spruce Ale. It's based on a recipe he created while he was ambassador to France. Low hop content, dark molasses hue, hint of herbal spruce and a dry finish. The herbal spruce is particularly enticing. Franklin could not stop inventing. At the top of the house in Craven Street in London there's an organ made out of wine glasses. He saw some Irish tinkers playing the rims of wine glasses with a wet finger and producing lovely notes. (Paul McCartney has this among his multiple talents.) So he put them together in a way that they could make chords.
I'm sorry about this, Ingrid. It's too long. But there's only one more to go before we have a break. Bliss. And I promise no more ale.
PPS: George Washington, Alex Hamilton and Thomas Jefferson also brewed their own ale. Can we think of one British Prime Minister who brewed his own ale? Or who based his policy on Chaucer? There you are then.
The BBC is not responsible for the content of external websites