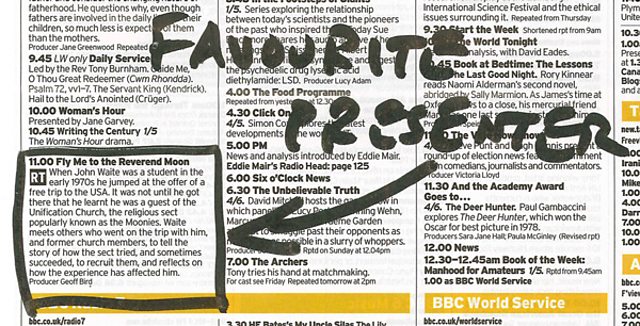 Here's something new. We want to know more about what our listeners and broadcasters like about Radio 4. So we're going to give a copy of the Radio Times to a different Radio 4 person once a week or so and ask them to mark the radio section of the magazine with their selections from the coming week - it's a kind of '
Pick of the Week
' for radio that's not been transmitted yet.
We're starting with the Revd Richard Coles, a Radio 4 regular whose Archive on 4 about bands breaking up airs on 24 April.
You can see all of his selections as pictures on Flickr and I'd like you to add your own choices from the coming week's listening by adding notes or comments to the pictures. And we're also using this as a trial for our new Facebook page, which has so far attracted 7,000-odd fans. Click here to visit the page, become a fan and leave a comment.
If you'd like to mark up your own copy of Radio Times, photograph or scan the pages and upload them to Flickr or to Facebook. Tag them 'MyRadio4' so we can find them.
And please let me know if there are Radio 4 people whose listening you'd like to know about. I'll pass them a copy of Radio Times and see if I can persuade them to get their felt pens out.
Steve Bowbrick is editor of the Radio 4 blog