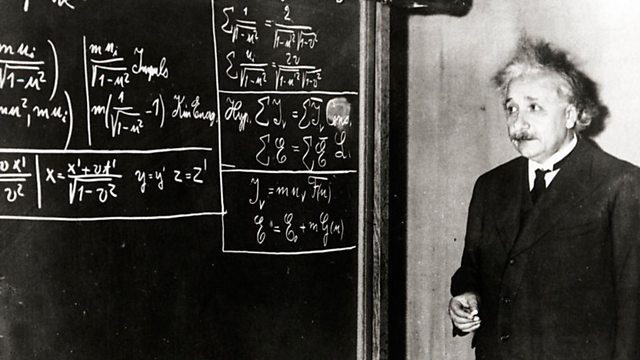 Relativity
Hello
Well, I got through it. People who know more about physics than I do (most of you) will have realised again and again how thin the ice was on which I was attempting to skate. Nevertheless, once again, those who contributed to the programme were not only a safety net and a cradle, but considerate enough to let me say a few words along the way. Martin Rees said afterwards how difficult it was to do this sort of programme without illustrations. "That's why we kept waving our arms around," he said. He also spoke about the number of letters he gets from people who are very interested in physics who sometimes begin "Even Newton was wrong..." Roger Penrose's letters include those that begin by saying how much they admire his books, but then attempt to explain why he's wrong. As a young man apparently Einstein was very dapper and beautifully dressed in the annus mirabilis of 1905, when he produced four papers while not working inside a university or a scientific community – four papers which changed the understanding of the universe. As an older man, the scruffy and bemused-looking mop top (the model for the first Dr Who?). He could have been a refugee from the Marx Brothers. Both Roger Penrose and the producer, Tom Morris, had personal anecdotes transmitted to them down their respective families that although Einstein loved to play the violin, especially in string quartets, and his name commanded only the best people to play with him, he had one grave fault. He couldn't count.
Ruth Gregory said that four dimensions were nothing like as complicated as we thought they were. When we came across a crowd of people and worked out how to navigate our way through them, we were using four dimensions. Martin said that the reason why Einstein's greater theory lay dormant for about forty years at the beginning of the twentieth century was that there were only very crude ways of testing their veracity. They could only come within 10% of establishing the truth. Now they can come within 1/100,000.
Doing this from the train, on the way to Carlisle, to give a talk about my novel in the town in which I was born. The event is being laid on by Gwenda Matthews, an independent bookseller, valiantly and, I hope, successfully continuing in her increasingly lovely occupation. I think it's 400 independent bookshops that have closed down over the last two or three years.
Tunnel, tunnel, tunnel... back in the light again. When I was at a grammar school I used to go into Carlisle sometimes to traipse around the independent bookshops. There was one second-hand bookshop, dug into the castle wall, which was wonderfully ripe for looting, with an extremely benevolent bookseller practically giving them away. Anyway, good luck to Gwenda Matthews and all who share her determination to stay independent.
It's been a John Ball week - filming a BBC documentary on this extraordinary fourteenth century preacher who helped inspire and amplify what has too long been miscalled the Peasants' Revolt. We've been whirling around Kent and Essex; at a wonderful sheep market in Colchester which has been there since at least the twelfth century, to abbey ruins which again – the abbey, that is – date from the twelfth century. Into Chelmsford for an unusual lunch break (i.e. not a sandwich in a car park), beside a river, and young Chelmsford folk wandering in the sunshine while cricket was being played nearby. In and out of churches beside the Essex Marshes, England past and present delighted by the appearance of the sun and leaping out to lap it up.
Best wishes
Melvyn Bragg
Download this episode to keep from the In Our Time podcast page
Visit the In Our Time website
Follow Radio 4 on Twitter and Facebook
The BBC is not responsible for the content of external websites