Afternoon Play: Two Pipe Problem - Here Doggie
Editor's note: Anne Reid and Honor Blackman join Richard Briers and Stanley Baxter in this latest Two Pipe Problem, the detective-comedy-drama set in a retirement home for the theatrical profession. Michael Chaplin, the creator and writer of Two Pipe Problem takes us back to the very beginning. If you missed it you can hear if for the next seven days on the Radio 4 website and there is another episode on Radio 4 tomorrow, Friday 12 August at 2.15pm -PM.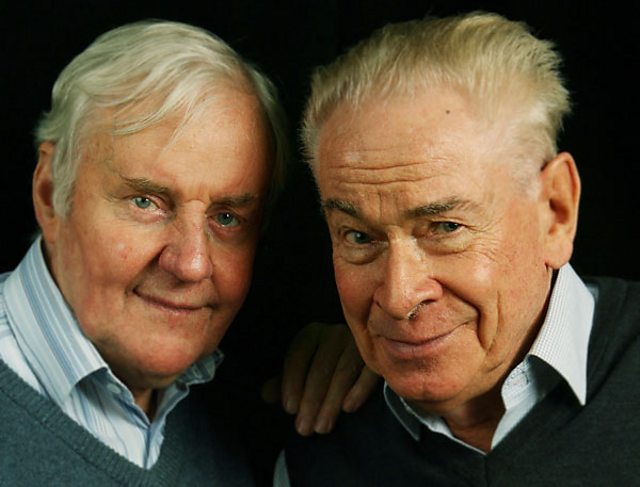 Richard Briers as William and Stanley Baxter as Sandy in the BBC Afternoon Play: The Two Pipe Problem
I often get asked where my ideas come from. Other writers I know seem to find the question irritating. I find it interesting, and believe the answer can be instructive, for me and maybe for the questioner too.
So...
Two Pipe Problems began in the fertile ground of the Daily Telegraph, an article I read years ago about Denville Hall, a retirement home for actors.
The thought of it made me smile - all those thesps sitting around in their dotage and still performing. I jotted it down in a notebook, but for a long time it stayed there. It remained a situation, not a story.
Then I went to Australia and woke one night in a hotel overlooking Sydney Harbour, with what seemed a good idea in my head (this happens rarely, by the way): namely, the notion that there might be two central characters in my fictional home; they'd once played Sherlock Holmes and Dr Watson in a TV series of the 1960s; even more potent, they disliked each other intensely, but were kind of stuck with each other.
These men, William Parnes and Sandy Boyle, would lead a shifting cast of rich eccentrics, but the Sydney Harbour notion gave me what I call a story engine: each week William and Sandy would investigate mysteries they encountered in the course of their sheltered lives in the Old Beeches, Pinner.
We aren't talking serial killings here (have you been to Pinner?).
Over the course of nine plays, the sleuths have looked into nothing more earth-shattering than the theft of a ventriloquist's dummy, the loss of a ceremonial sword in a Buckingham Palace lift and why a memory man can't remember anything any more - the kind of stories that wouldn't detain Lee Child but which give me much scope for comedy and its near-relation, pathos. For retired performers are people too - and maybe more vulnerable than most.
In achieving both, I'm unbelievably lucky to have had the services of Stanley Baxter and Richard Briers, and stellar support from the likes of Anne Reid, Geoffrey Palmer, Barry Cryer and the late, great Ken Campbell.
People seem to like working on the show. I take no credit. Apart from anything else the crack between takes - what might be called the anecdotage - is quite superb.
One story of my own. When I went to Denville Hall to research the characters, I interviewed a delightful chap on the cusp of 90 who told me of his life. As I prepared to leave, he touched me on the arm, smiled and inquired gently: "This play of yours - I don't suppose there's a part in it for me?"
It's an utter pleasure and privilege to write Two Pipe Problems for Radio 4. So please meet me at Baker Street Station and we'll catch a Metropolitan Line train for that beguiling place, the Old Beeches...
Michael Chaplin is the writer of Two Pipe Problem
The Afternoon Play is on Radio 4 at 2.15pm Monday to Friday each week. You can also listen via the Radio 4 website for up to seven days after each play is broadcast.