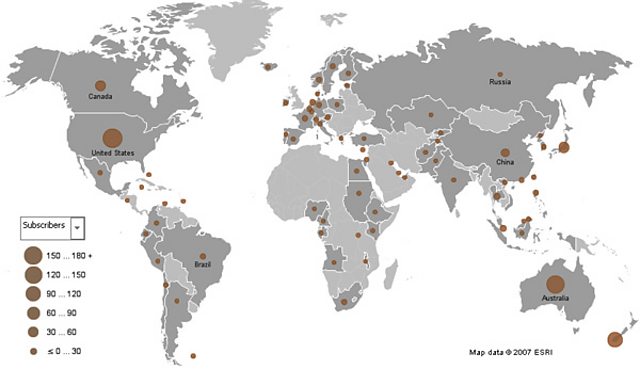 I went to the recording of The Now Show last Thursday night - the last of the current run. It's recorded at the Radio Theatre in Broadcasting House. Free - and a very jolly evening can be had. The News Quiz also records there - as do a lot of other BBC shows. Click here to find out how to get tickets. In the previous week's podcast (but not on air) the team asked listeners outside the UK to email with their (personal) big news. We got a lot back - and used some of it in this week's show. I am indebted to the producer - Ed Morrish - for the geographical breakdown.
When The Now Show asked for news from listeners around the world, 621 podcast subscribers replied, from 72 different countries. The most remote was South Georgia (lumped together with the Falklands on the map) and furthest away Stewart Island, New Zealand, 11,828 miles from the Radio Theatre.
We used Many Eyes to visualise the geographic data. The visualisation is here and the raw data here (CSV file). Many Eyes doesn't recognise Antarctica, Easter Island, South Georgia or Tibet as separate countries, although listeners from all four emailed the programme).
The Now Show is off-air at the moment but you can still listen to the most recent episode and subscribe to Radio 4's Friday Night Comedy podcast.