Questions Questions: "Why does bacon come in rashers and everything else in slices?"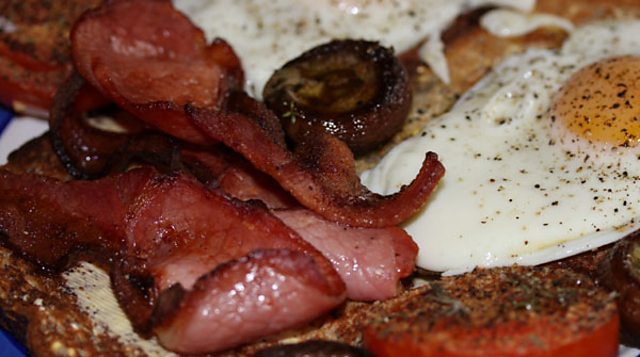 This week Stewart was basking in the reflective glory of cats' and dogs' eyes after listener Robin Atack asked us to find out why our furry friends' eyes appear to glow green in flash photography.
Gordon Kirk asked us to put to bed the old wives' tale 'when swallows fly high, the weather will be dry'. So Stewart met the RSPB's Dave Flumm at one of the country's largest reed beds where swooping swallows congregate.
Reporter Emily Williams visited Jane Austen's house to make sense (and sensibility) of hair jewellery. It's a fascinating social history of death, love, and plaits which took her to the depth of Sweden where they still practice the craft.
Listener Linda Ireneschild was plagued by the problem of nits. She wanted to while away a few hours in the tub whilst defeating the troublesome critters so she asked us: can nits be drowned? Parasitologist Ian Burgess was on hand to provide an answer but possibly not the one she wanted to hear...
And when everybody drank beer to stay hydrated, were they all drunk? Stewart was joined by brewing historian Dr James Sumner and historian of medicine Dr Katherine Foxhall to explore our tipsy past.
Next Thursday, in the final episode of the series, Stewart is treading the boards at the Minack theatre and is joined by classicist Professor Edith Hall to discuss why the ancient Greeks situated so many of their theatres in dramatic coastal locations.
And he'll be marveling at a jumbo feat of engineering as we try to find out what happened to the mechanical elephants built by Frank Stewart in the 1940s.
Not wishing to leave our listeners languishing in puzzlement, we are still trying to solve the following questions before the end of this series. Please post your comments below if you can help.
Question 1: Why does bacon come in rashers and everything else in slices? No butcher or dictionary can help our listener, can you?
Question 2: If you have an allotment by a busy road, how does it affect the plants? Are they still safe to eat?
Question 3: Have any of you seen those aforementioned mechanical elephants? Our listener has mentioned the Thaxted elephants made by Frank Stewart but what happened to them?
There's still a small window of opportunity to get your questions answered so please do send them our way. Send them to questions.questions@bbc.co.uk, call us on 03700 100 400, or leave them as comments on this blog.
We also welcome questions and comments on Facebook and Twitter using the hasttag #R4QQ. You can also post your comments here on the blog or reach us directly using the Contact Us form.
The Questions Questions team