The eSportsmen: cyber athletes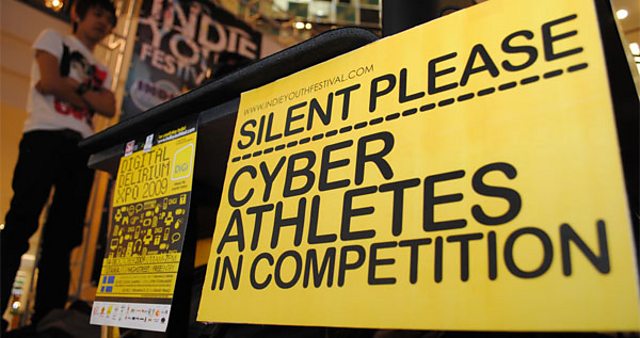 It didn't look much like a central hub of operations for one of the most successful professional gaming teams in the country. Just an ordinary suburban semi-detached, painted lemon-yellow. But as soon as we walked through the door of Mike 'Odee' O'Dell's family home, it was obvious this was no ordinary three-up-two-down. Team shirts & boxes of tech kit were stacked high in the hallway and stuffed into every conceivable nook and cranny. His two young daughters were busily tapping away on computers, and a sullen-looking young man sat frowning in concentration at a 50-inch plasma TV in the living room, practicing for a big FIFA World Cup match that weekend. Upstairs it was no different. The master bedroom was more office than peaceful retreat, with trophies and gigantic prize-cheques - most of them bigger than both Mike's daughters put together - littering every surface. Two things struck me during our brief visit to the UK headquarters of Team Dignitas. This man is seriously dedicated to his work and his wife must be an absolute saint!
One of the team's star players, David 'Zaccubus' Treacy, agreed to meet us for a chat about his life as a professional gamer. Hiding beneath a huge floppy hat I was expecting his interview to be a bit of a struggle. Computer gamers don't have a reputation for possessing highly developed social skills. As a gamer myself I am thoroughly opposed to this generalisation, and as soon as David started to speak I realised I had utterly misjudged him from his appearance. This young man was friendly, open and eloquent. Despite having suffered with dyslexia throughout his school years, he was clearly very bright and ambitious. The difference here was that his ambitions centred around becoming the best video gamer on the planet. Now you might think that sounds like a waste of a person's drive and passion - but when you consider he has the potential to earn in excess of $100,000 in a year, and travel the world on expenses while he's doing it, it begins to sound a lot more palatable.
The final stop on our tour of the UK gaming fraternity was the Gadget Show Live in Birmingham, where Team Dignitas were contracted by hardware manufacturers to battle head to head against members of the great unwashed public. Young lads bashed away at computers worth thousands of pounds as their parents looked on, somewhat bemused. They were routinely wiped out by a few carefully planned flicks of a Team Dignitas mouse-hand on the other side of the partition.
Dr Dominic Micklewright, a sports psychologist from The University of Essex was also at the event. He ran some scientific tests on our gamers and see if any comparisons could be made with professional athletes, he subjected the poor victims to a rigorous session of bouncing, cycling and reaction-time tests. They were sharp - as sharp as any good athlete who takes his sport seriously. But when it came to the fitness tests - well, let's just say there can be no denying that most avid computer gamers probably do need to get out into the fresh air a bit more often!
Kate Russell is presenter of The eSportsmen on BBC Radio 4