In Our Time - The Tempest
Editor's note: In Thursday's programme Melvyn Bragg and his guests discussed The Tempest. As always the programme is available to listen to online or to download and keep.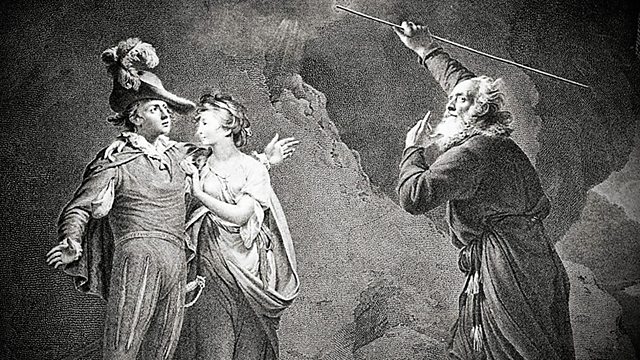 The Tempest
Hello
I am dictating this on the train to Bridport. I am just being told that I am about to stop in Poole and to mind the gap at the platform edge. Bridport will be my last literary festival stop this year. There are over 350 now in the British Isles and I feel I've been to a very great number. And it's no less than the truth to say that I've enjoyed every one of them. Usually I try to compound the experience by doing something else as well as the festival. Something else this time was to see an old friend who was a colleague in the first year – 1977 – when we prepared The South Bank Show, and to see one of my best friends and his wife who was also at LWT at that time.
The great thing about literary festivals for novelists is that they meet readers. Not necessarily readers of their books (although that's part of it) but readers. That is to say, people in their own tribe. I'm now anticipating the Bridport tribe and trying to eradicate from my head the announcement that I am in Poole. Having arrived at Poole, I will soon be told that I am leaving Poole. Poole looks lovely in the twilight.
This morning after the programme I wandered down Regent Street and saw what I think will be the best decorations for years. They've done up huge deers' antlers in silver and en masse, right down this curving masterpiece of retail. They look wonderful.
The programme this morning was just a joy. The three of them know so much and are so full of it, and there's so much to say and there would have been so much more to say. The masque at the end of The Tempest which I found quite dull to read was, I was firmly told, a highlight of the play, when performed with music and dance in the proper fashion.
In 1960 I was part of a touring group from the university which took The Tempest to Germany. We were there several weeks, travelled in a coach which contained the whole cast, the stage manager, all the props and all the costumes. We lodged sometimes in hostels, sometimes in people's houses, sometimes in schools, and chugged down the Rhine and drank overlarge glasses of beer in Heidelberg. It was a most strange experience. It seemed such a short time since we as children, or at least I as a child, had been identifying Germans with devils incarnate and fearing them and wanting to destroy them, and now here I was meeting charming people, good-mannered, appreciative, generous. Where was the real world in all this? Which were the dreams and which were the nightmares?
This is my second port stop in the last six days. Last weekend I was in Maryport on the coast of Cumbria. A small mining town, once a hub in the Industrial Revolution in that area. A great port since Roman times and in the small museum, beginning to build an amazing collection of Roman artefacts dug up from what now appears to have been a major Roman depot for goods brought in from all over the Roman Empire to serve the Roman world. Already in this small museum there are more altars than there are anywhere else outside Italy. There is also a unique and fantastic and large phallus with a serpent realistically wound around it. Worth the visit for that alone.
Maryport was where my father was born. I wandered around it very early in the morning and found, as he always said, that the real Cumbrians began in West Cumbria! That is to say, people on the streets doing their early shopping were friendly and cheerful, despite the fact, as part of a post-industrial society, in many ways they had not much to be cheerful about.
One thing about having had little money spent on the town is that there are no chain stores; there are individual shops in all the hilly streets. In short, it is a gem, although to be realistic, for many it might seem a trap. On the other hand, I didn't meet "those" many. Those I did meet were delighted to be in such a place, with the long promenade beside the Irish Sea and the pubs, Middle Tap, Lower Tap, Top Tap. And there was a church for sale. A big church with a little sign on saying 'For Sale'. It had a splendid spire.
Best wishes
Melvyn Bragg
Download this episode to keep from the In Our Time podcast page
Visit the In Our Time website
Follow Radio 4 on Twitter and Facebook
The BBC is not responsible for the content of external websites