Andrew Marr: An introduction to Vasily Grossman's Life and Fate
Editor's note: This coming Monday Andrew Marr discusses the life, work and legacy of the writer Vasily Grossman in a special Start the Week recorded at an event in Oxford to celebrate his novel, Life and Fate. Centred around the bloody battle of Stalingrad, Life and Fate charts the history of both a nation and a family in the turmoil of war. There is a special thirteen part adaptation of Life and Fate with Kenneth Branagh and David Tennant starting on Radio 4 on 18 September. On the Radio 4 blog Andrew Marr introduces what many see as one of the greatest novels of the modern age - PM.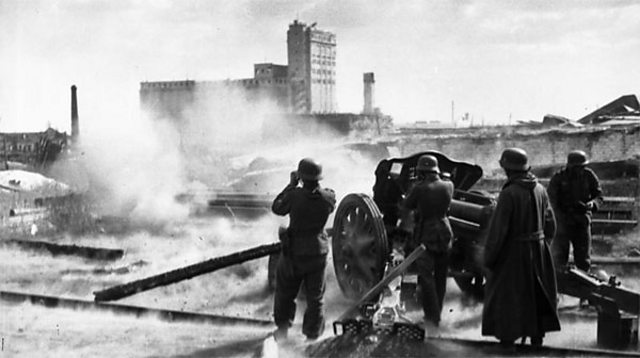 Stalingrad, used under license from the Deutsches Bundesarchiv
Mikhail Suslov, the "cultural" boss of the Soviet Union in the early 1960s, was one of the worst. He read Life and Fate closely. He decided it could be published - but not for more than 200 years.
When you pick up or listen to Vasily Grossman's Life and Fate, you are experiencing a masterpiece plucked from oblivion. KGB officers had raided Grossman's flat and thought they had every copy of the manuscript, even down to copying paper and the ribbons from his typewriter. Grossman died thinking nobody would ever read it.
In fact, he'd given a copy to a friend, and it had been forgotten in a bag underneath some coats in a country home. It was copied by dissidents and made its way eventually to the West. We have Life and Fate by the slenderest of chances.
Why were the authorities so frightened?
Grossman had been a popular and patriotic novelist. He had narrowly escaped Stalin's terrifying Great Purge but when Hitler invaded Russia, became a journalist for the Red Army's newspaper Red Star.
Life and Fate is one of the best examples of journalism elevated and reshaped into a great novel. Grossman saw the Soviet retreat, the heroic defence of Stalingrad, titanic tank battles and the fall of Berlin. His unblinking, pulse-racing prose was devoured by soldiers and airmen all over Russia. He was nominated for the Stalin Prize.
He was also the first reporter to reach the hideous concentration camp Treblinka. His account of the Jewish holocaust there is one of the essential pieces of journalism of the twentieth century.
But there was a lot more to Grossman's uncovering than reporterly objectivity. He was a Jew, who had had to leave his mother behind when the Germans advanced; she was murdered and he never recovered from the guilt and despair. As a Jew, he fell foul of the Stalinist dogma that the Nazi atrocities were aimed indiscriminately at Soviet citizens. Describing the Nazi programme to exterminate Jews in particular was not welcome in the victorious Soviet Union. As a truth-teller, and a Jew, Grossman was in trouble.
After 1945 came full-blown Soviet anti-Semitism and a new round of purges. Grossman became a steadily more open critic. His last and uncompleted novel, Everything Flows, ends with flaming, raging pages which tear into the inhumanity and barbarism of Lenin and Stalin. Like his Treblinka report, it remains essential reading for anyone who wants to know the truth of that bloodiest of centuries.
English readers do not - as yet - have access to Grossman's "Soviet" novels, so we cannot compare them to Life and Fate. But this is the opposite of a propaganda or "political" novel. It is a book written in a spirit of love and pity for human weaknesses, as much as one which celebrates courage. It is a book of foolish regrets, greed, a sparkling love of nature, passionate arguments and tiny details - as well as fighting and killing and courage. Peace, and war.
It is also a book of ideas, up-to-date even today. Grossman was a highly educated scientist, fascinated by the latest thinking. Einstein and the curvature of space-time haunt the imagination of his physicist hero, Viktor Shtrum. He reflects that "The Day of Judgement had come... Truth had been sleeping for centuries... no one in the world could be happier than the scientist."
This book really does stretch its arms round all human life, as does another book about invasion and patriotism, Tolstoy's War and Peace. Tolstoy was one of Grossman's heroes - he paid a pilgrimage to the older writer's home, Yasnaya Polyana, just before it fell to the Nazi invasion. Grossman, ambitious though he was, would be first to say that to compare Life and Fate with the greatest novel of all is absurd.
But here is the extraordinary thing. Snatched from the gloves of the KGB, Grossman's novel, though not perfect, actually can stand this most extreme comparison. It has become a book every educated person should know.
Andrew Marr presents Start the Week