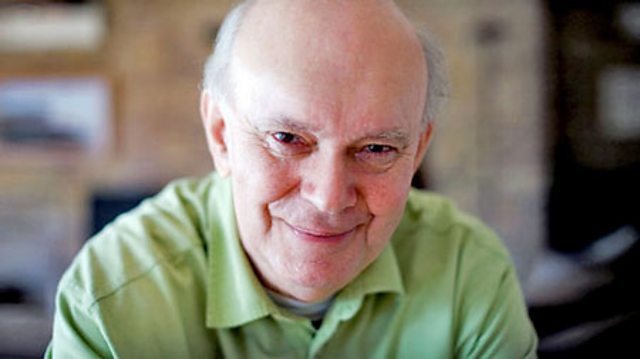 http://www.bbc.co.uk/programmes/b00jdflg
Alan Ayckbourn is Chris Campling's new favourite playwright. On his 2 April With Great Pleasure Ayckbourn picked only funny stuff for Amanda Root and Jon Strickland to read. Campling, writing in The Times, says:
But it wasn't the excerpts that made the programme, it was Ayckbourn's introduction of them. He spoke of meeting P.G. Wodehouse "in the final pages of his life - a bit vague, slightly dotty and selectively deaf. He and his wife Enid were living in Long Island, New York, and next door to their house they had opened the Bide-a-Wee Home for Cats and Dogs." After that even the excerpt from The Great Sermon Handicap wasn't quite as funny.
In The Observer, Miranda Sawyer notes that Evan Davis and John Humphrys are up for the same Sony Award for their work on Today (the award is for Speech Broadcaster of the Year). She finds evidence in the previous week's output that they're both worthy of the prize
On Tuesday, Humphrys dismantled Jacqui Smith, the home secretary, with elaborate care, as if he was tidying away a construction made from incredibly expensive toilet paper. Smith, for her part, helped him to do it. She answered all his questions. But every time she did, you went "ouch".
Hear Humphrys' performance here and Davis' here. "Give them both the award", Sawyer concludes.
Gillian Reynolds, previewing this week's radio in The Telegraph, picks out Dan Stevens' reading of William Fiennes's The Music Room for Book of the Week. She highlights the contribution of one member of the Radio 4 production team:
Regular fans of this slot will recognise the abridger's name, Viv Beeby, as yet another guarantee of a good listen. There's an art in capturing the essence of a work in five short episodes and she's a top practitioner.
The Guardian's Elisabeth Mahoney enjoyed the exceptional sound in Friday's doc about Iceland after the crunch:
Freezing Fire, Singing Stone featured a record number of squelchy sounds; deep gurgling noises, like something wet being stretched and then falling back on itself with a plop.
Rosa Chianti previews next Saturday's Reasons to be Cheerful in The Scotsman. It seems to have worked for her. We should probably all listen:
Optimism seems to be as low as interest rates these days. Thank goodness, then, for Peter White, Diana Quick and Steven K Amos, who are here with Reasons To Be Cheerful.
In The Guardian's Media section, Martin Kelner, a radio regular in his own right, thinks the BBC is making a mistake closing message boards, especially those used by radio listeners:
The great strength of radio is the one-to-one connection we feel with it, and the message boards reinforce this, and should continue - even if some broadcasters see them as an internet outlet for the green ink brigade...