The 4 O'Clock Show: The Roald Dahl archive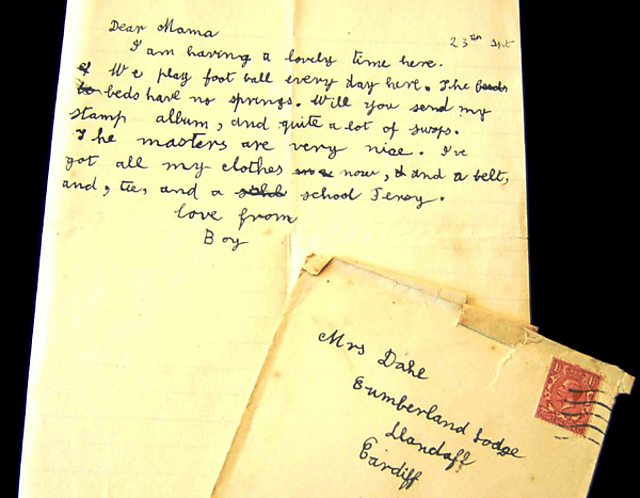 James and the Giant Peach began life as "James and the Giant Cherry", which would be pushed along the water by giant waterboatmen. It was only later that Dahl later changed it to a peach, because a peach would be "prettier, bigger and squishier than a cherry". The changed fruity preference only came to light after Dahl's death, when his papers were sorted and catalogued for the opening of the Roald Dahl Museum and archives.
The Roald Dahl museum is on Great Missenden High Street, a pale blue building complete with the outline of the BFG meandering along with his dream horn. Among the first things I saw on display were the some of the original documents for James and the Giant Peach, including a page from Roald's ideas book.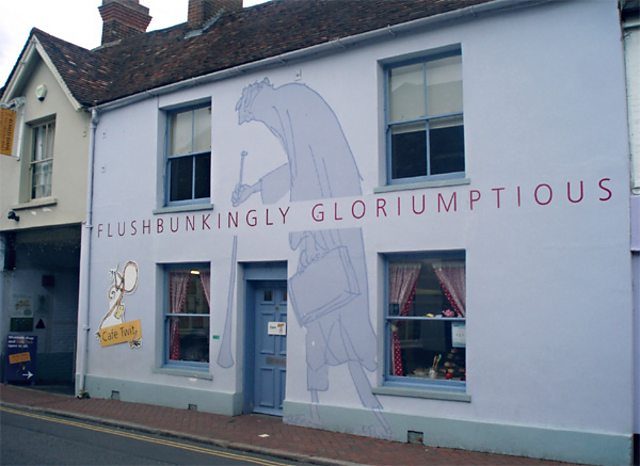 "A good idea is like a dream - you'll know you had one, but unless you write it down you'll not remember what it was," he said. And sure enough, at the bottom of the page, scribbled lightly in pencil was the seed of an idea. It read, "The cherry that wouldn't stop growing. Fairy story."
I was shown some of the many pictures Roald took - he was a keen photographer - as well as his old RAF pilot's helmet and one of his old Norweigan sandals, which he posted to Quentin Blake when they were trying to figure out what the BFG should wear on his feet. Have a look at a picture of the BFG - that's Roald's sandal right there.
As part of my trip, I was allowed in to 'The Strong Room' - the securely locked, watertight, climate-controlled nerve centre of the museum.
It houses the Roald Dahl archive.
The room itself was relatively small, but inside were shelves and shelves of unassuming blue cardboard boxes with little pencil labels on the front. Simple words that gave me goosebumps.
Roald was a meticulous record-keeper, and hung on to each version of his work as it evolved and progressed. My eyes were drawn to the box about shoulder-height. On it were the words "Box 44 RD 2/27/6-12 - Matilda".
Jane Branfield, the museum's Archivist, opened up the Matilda box for me. The page that greeted me when the lid was lifted read "First Draft, Summer 1986." The story of Matilda was originally called "The Miracle Child". Chapter 1 was titled 'Wickedness'.
Matilda is perhaps the story that changed most dramatically between first and final versions. And as Roald later said, this is the story he got the most wrong in the first version.
"Wicked children are happiest when they are making somebody else miserable. To them, being wicked is a pleasure. There is no doubt that Matilda is one of these."
There was no Miss Trunchbull, and no Miss Honey. Matilda's parents were long-suffering, lovely people, and Matilda's teacher - Miss Hayes - was addicted to horse racing. Matilda had to use her telekinetic powers to help horses win at the races and so keep Miss Hayes out of prison. As the story finishes, they both meet a rather grizzly end - completely different from the modern story.
Jane then offered to get Charlie out for me. How could I refuse? Unusually, there is no first draft of this story. After it was written, Roald gave it to one of his nephews to read.
"I think it stinks, Uncle Roald," was the review. Jane can only assume that Roald was so disappointed that it was binned before starting again. The original story was called Charlie's Chocolate Boy and told the story of a boy who fell in to a chocolate vat and was given as a present to Mr Willy Wonka. As we looked through the different drafts, we saw the story change and develop.
We looked at the final draft. It was typed, printed, bound and all ready to be delivered to the publishers to be turned in to the first edition of what was now titled Charlie and the Chocolate Factory. Right at the last minute, Roald had flicked through and scored out every occurrence of the words "Whipple Scrumpet." He replaced it with "Oompa Loompa."
There was so much more to the archives than just the stories, however. There were boxes and boxes of letters to Mama. Jane confesses this is her favourite bit. When Roald was at boarding school he had to write to his mother twice a week. This was a habit he kept up over the years, and there's an entire collection of letters from the age of nine right the way through his time in the RAF, America and into his career as a successful author. One of Jane's personal favourites is a schoolboy story about winter tobogganing in which several of the boys ended up in a frozen stream and a snowball fight followed. "It was the best day of my life," Roald wrote.
There were boxes filled with all the international versions of Roald Dahl's books. I liked the look of the Arabic Charlie and the Chocolate Factory. And there was a single box, simply labelled "Unpublished." Roald was an energetic storytellyer, filled with ideas. But he was also a perfectionist and, as we saw from the first draft of Charlie, wouldn't put something out there if he wasn't happy with it. His family have always respected his wishes and these stories will never be published.
Rich Preston is a producer for BBC Radio 4 Extra