Welsh poet Gillian Clarke discusses her poetry collection Ice on Radio 4's Bookclub - listen to the programme from 4pm, Sunday 5 May 2013.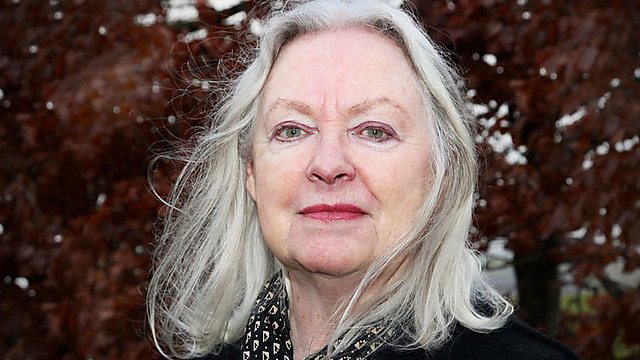 Gillian Clarke
We took Bookclub to Swansea for this month's programme, and met Gillian Clarke, the national poet of Wales.
We spoke about her collection Ice, but of course it was also a conversation about poetry in general – her attraction to metaphor, to the music of words, to the Welsh bardic tradition. That came to her rather late in life, because when she was a child her mother didn't want her to speak Welsh. She admitted that, having discovered and learned the language as a grown-up; it came to have a special power for her – the oldest tongue in these islands and one with a particular musicality.
Memory for Gillian is important. When talking about the poems in this collection which play with the idea of winter and the dark, cold season, she was back in an instant to her own childhood and a polar bear rug that appeared on the floor one day, and became her friend. Did she play with it, I asked. "I fed it!" she said.
National Poet of Wales Gillian Clarke describes the polar bear rug in her childhood home.
We were in the Dylan Thomas Centre in Swansea, a natural place for a Bookclub, and of course readers wanted to discuss their favourite poems in Ice and reveal what it was about poetry that attracted and moved them. Gillian joined in, recalling early inspirations and particularly one teacher, a Miss Tierney from Dublin, whom she thanks for opening the door for her. It was from her that she learned the love of words. We all have one teacher who did that, I like to think, and in the course of our conversation we all found ourselves recalling childhood verses and favourite poets who managed to take us out of the here and now and into another world.
As we spoke, and listened to Gillian's mellifluous readings, I reflected on the happy state of poetry. No doubt there are too many writers who find that if they manage to sell a handful of poems they should consider themselves lucky, and there are many publishers who still won't give poetry the time of day, but I'd assert that there is more poetry being heard in schools these days than was the case half a century ago. Gillian has been the Welsh national poet for a number of years and is an important figure in the community; in Scotland Edwin Morgan for many years and now Liz Lochhead have had the same role (the "Makar" for Scotland) and I'd suggest that Andrew Motion and his successor Carol Ann Duffy have done a huge amount for the business of poetry: we all know their voices.
Personally speaking, I was lucky enough when I was a student to catch the tail-end of the Scottish renaissance, kicked off in the 30s by the cantankerous, infuriating figure of Hugh MacDiarmid, and in the early 70s Norman MacCaig, Iain Crichton Smith, George Mackay Brown and others were still carrying the torch, in much the way that Seamus Heaney does today. Listening to them read was an education, and often a riot. It was invigorating in Swansea to be in the company of a poet who has such a natural commitment to her work as Gillian and emits such a glow when she talks about where her poetry comes from, how the ideas form. The secret, incidentally, is that she is always listening.
I hope you enjoy listening to her.
Our next programme, on the first Sunday of June, is with a poetic writer of prose – Jim Crace, who'll be talking about his book Quarantine, a truly remarkable novel.
Happy reading
Jim