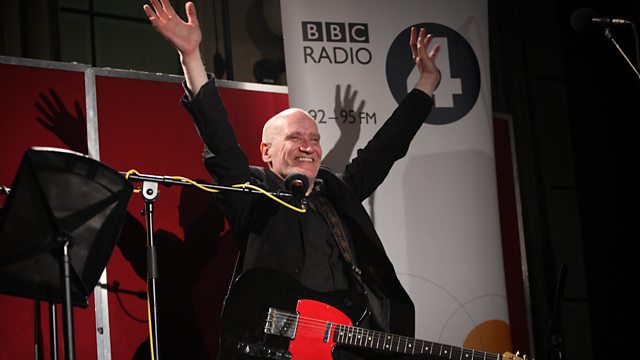 Wilko Johnson acknowledges the applause of the audience at Maida Vale Studios.
When Wilko Johnson had the hugely enjoyable experience of recording Mastertapes he was only six weeks into his diagnosis of terminal pancreatic cancer.
Since then he has continued to enjoy a renewed enthusiasm for life, declining any chemotherapy, and as yet is showing no signs of the onset of the disease. He is currently in Japan for his third holiday there this year.

Shortly after recording Mastertapes, Wilko began a farewell tour. Such was the desire to witness one last time his uniquely raw and energetic performance that all the venues sold out within an hour of tickets going on sale.

Happily for the thousands who could not get tickets (or would not pay the touts the £200 they were demanding) the two London shows at Koko were filmed for a live DVD, to be released early in the summer.

It was unfortunate that the last two shows of the tour, in Wilko's birth town of Canvey Island, had to be cancelled – not due to the cancer but to that particularly virulent flu virus that was doing the rounds.

Although Wilko has said that he does not want to tour any more, he has been working on a studio album to be released later this year.

Wilko was recently photographed by Rankin for his deeply moving exhibition Alive: In The Face of Death, being held at the Walker Art Gallery in Liverpool. This is a celebration of life in portraits of people who have received a terminal diagnosis, who have faced a near death experiences or who have lived against the odds. The project was filmed by The Culture Show for transmission on BBC2 in June.
Such is the interest in his history, influence and positive response to his diagnosis that, as well as the daily flow of goodwill messages and interview requests, there is even talk of a stage play based on his life.

It seems that after a 40-year career which many felt did not receive the recognition it deserved, Wilko is now becoming something of a national treasure – and this is surely reflected in the warm, lively and enthusiastic response he enjoyed in the Mastertapes sessions.
Left-handed Wilko talks about playing guitar right-handed and how his style evolved.