Editor's Note: Saturday Live is Radio 4's Saturday morning magazine show featuring extraordinary stories and remarkable people. You can listen to the show here. In this blog presenter Richard Coles looks ahead to the next show. - CM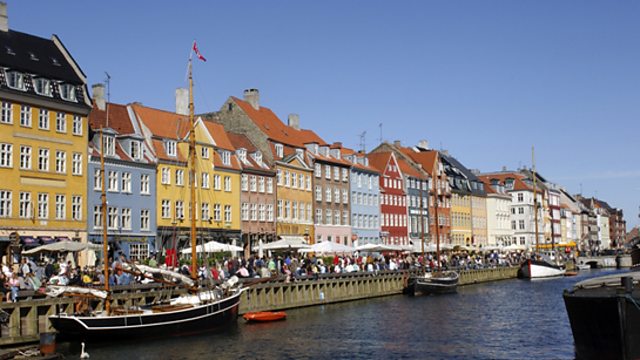 Copenhagen, Denmark.
The parish is glittering with frost, one of those rare days when its cold enough for the frost to stick but bright too so it catches the light. I find sparkling cold completely exhilarating, one of the reasons why I love winter, along with not sweltering to death in a cassock and the music of Advent.
Ever since I was a boy I've been attracted to the cold north, and as soon as I could travel explored Scandinavia and the Nordic lands (there's a fine distinction here but I forget what it is). From the moment I first set foot in Denmark in the 80s I felt an immediate affinity with the people, the culture, the landscape – perhaps not the food, although Copenhagen is now the most fashionable place to eat in the world – and ever since I have been drawn back to it and the neighbouring countries.
I've since returned many times to Denmark and to Sweden and Norway and Finland and Iceland, which I particularly like, and have even made a few radio programmes there, each time finding myself more and more at home, although cultural differences concerning dress in the public sauna did perhaps mark me out from my peers (NB you won't need your duffel coat).
I love the languages, I love the way of life, I love the landscapes, especially the wild landscape of Iceland with its jagged mountains and black sand and blue-white glaciers and tiny settlements of church-farm-parsonage where if you are not careful you may be served the national dish of putrefied shark meat. Other Nordic countries have national dishes which also test one's gourmet powers to their utmost but even so I love the place and contrive to return there as often as possible.
 
Why do we feel affinities for certain places? On paper, it would be the Mediterranean countries that should suit me better, climate and menu in particular, and I love them too, but I don't think they're a sort of home from home as Scandinavian countries are. Perhaps it goes back to childhood, when I adored the Viking novels of Henry Treece and because I went to school with Danes whose dads worked at the Carlsberg brewery in Northampton and I had a Swedish pal called Robert for whom I had a silent but abiding crush?
 
I think it comes into focus for me in the films of Ingmar Bergman, for my money one of the towering artists of the 20th century. He is often caricatured as gloomy, expressing that fatigue du nord which southern Europeans speak of, but I think in his case it is completely undeserved. What I love most about his films are their joie de vivre. The mournful Swede? Joyous? Yes. Not in a chirpy chirpy cheep cheep sort of way but in a way born of intense concentration on the sheer miraculousness of things. There's also a play of darkness and light in Scandinavian art which seems very in at the moment, not least since the success of The Killing, the wonderful crime serial set in Copenhagen which has made us all fall in love with Sofie Gråbøl and her hideous jumpers. Discussed at length with Emma Kennedy the other week.
 
Darkness and light too on Saturday Live this week, as most weeks. The light will come from Lee Mack, our studio guest, who was nominated for the King of Comedy award this week but just lost out to Jack Whitehall. Light too from Paul O'Grady, who shares with us his enthusiasm for homeopathy, and darkness from a man who has not let the loss of his sight hinder his ambition to walk to all ninety-two English League football grounds. Another is stockpiling all sorts of stuff in preparation for the Armageddon he believes is hurtling towards us. Lest that lower the spirits, John McCarthy is this week bound for lovely Leighton Buzzard and we have the Inheritance Tracks of Fiona Shaw.
 
Chiaroscuro this and every Saturday, just after nine.