Counting your donations at St Martin's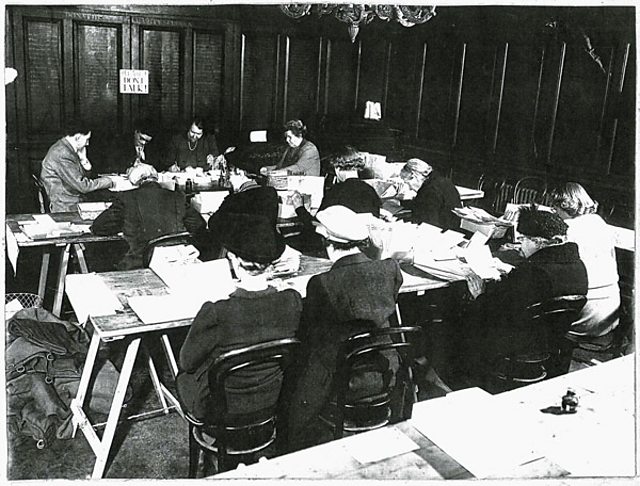 Editor's note: Sally Flatman, producer of all the Radio 4 Appeal programmes, brings us news from St Martin's. Make your own donation to the appeal on the Radio 4 web site - SB.
We've had an amazing start to this year's appeal - on Sunday, taking calls in London and Belfast from 8am till 10pm we received over £100,000. That is a record but you'll understand why we are still holding our breath - we don't underestimate the challenge of reaching last year's total of £900,000 particularly in the current economic climate.
The job of opening the post is really only just beginning but the team of volunteers is in place and working hard. (there are usually sacks of mail) As ever there are extraordinary donations like the postal orders which total £750 from someone who simply says that they: "spent two nights in the night shelter in 2001... thank you very much all involved".
We will keep in touch as the post gets opened. Thank you to all of you who have given via the web - again we are seeing more donations this year from the web but does this mean there will be fewer cheques? We still don't know at this stage.
If you haven't yet given and would still like to then please call 0800 082 82 84 or send your cheque made payable to St Martin-in-the-Fields Christmas Appeal to Trafalgar Square, London, WC2N 4JJ. If you are giving via the web do spare a couple of minutes to watch Jamie Winter's slideshow: The World Through the Eyes of a Homeless Photographer.
In the meantime we thought we would share this picture with you - the post being answered back in 1950 ...note the sign on the wall - 'PLEASE DON'T TALK' And what a lot of hats...
Sally Flatman is producer of The Radio 4 Appeal
Listen to the Radio 4 St Martin-in-the-Fields Christmas Appeal and make a donation on the Radio 4 web site.
Listen to Libby Purves' Received with Thanks about how your donations are used.
The BBC Radio 4 Appeal has a Facebook page. Like the page for updates on the weekly appeal which raised a total of £1.5M for 52 charities last year.