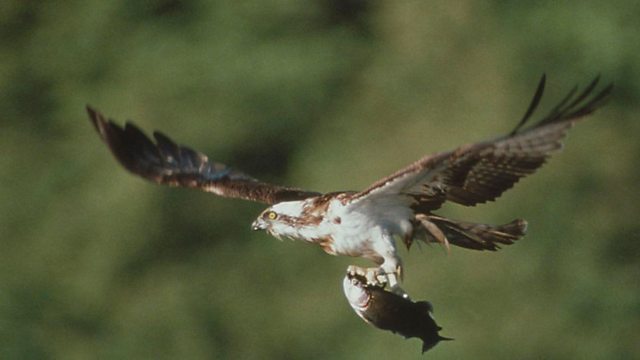 Osprey
Ospreys were driven to extinction in the early 20th century and were not seen again on our shores for several decades. Following new laws restricting persecution, the first pair returned to the UK at Loch Garten near Perth in Scotland in the 1950s.
This site, on the RSPB Abernethy reserve, has become a pilgrimage for nature lovers and has helped pioneer a new way for people to engage with nature using the latest technology.
The RSPB osprey viewing facilities at Loch Garten first opened the doors to a curious and excited public in 1959 and 14,000 people came to visit. Today, collectively nigh-on 2.4 million people have visited, between 30-35,000 each spring & summer season. And amazingly, we are still doing pretty much today what we started doing all those years ago. Our face-to-face engagement by staff and volunteers has proven a winning formula, and one we stick to, wowing people with spectacular wildlife, and sharing our passion and enthusiasm for ospreys and nature.
A visit to the Osprey Centre acts for many as a springboard, for what becomes for them, a life-long interest in birds and other wildlife. I've worked at the Osprey Centre for many years and I meet many people who came as children and are now coming back with their own children, their grandchildren and even their great grandchildren. It has become a generational thing, to see the famous ospreys of Loch Garten.
It's an act of faith every year, on their part and ours, there's no guarantee that they'll come back, but come back they do and so do the visitors. Some return every year, but choose a different week or month each time, to see the season at a different stage - when the birds arrive, when they're on eggs, to see chicks hatch and growing, or to see them fledge and leave.
We haven't stood still though, we have moved with the times. The first camera to be installed on an ospreys nest in the UK was here, back in 1989. This revolutionized the experience for all, but for one important audience in particular - the young, who don't always find telescopes and binoculars easy to use. The camera on the nest enabled people to witness the intimacy of osprey family life, and gave an insight into aspects of their lives not previously witnessed. And for children, enthralled to see nature red in tooth and claw, an osprey tucking into fresh fish, ripping it to pieces before their very eyes will, we hope, live long in their memories.
Modern technology has enabled us to share the joy and pleasure of ospreys all the more. Nowadays our web-linked cameras, beam live pictures into homes worldwide. Images from the nest, streamed to the web, have been a fantastic way of engaging with a massive off-site global audience, 24/7. The nest camera is infra-red, so at night when we are sleeping, folk in California for example, are watching it over their breakfast. It has proved hugely popular with schoolchildren too, watched in classrooms, linked to their schoolwork, helping them discover and learn about the wonders of nature.
The pioneering set-up at Loch Garten way back then, has inspired similar wildlife interpretation sites the world over, for ospreys elsewhere, and for much other wildlife too. From those first beginnings to today's modern hi-tech interactions, these developments have served to make the osprey a household name, helping raise their profile and enter them into our consciousness. From the history of their demise at the hand of man, the triumphant return of those first returning pioneering pairs, to their firm re-establishment, both in terms of populations and in our psyche, as one of our most cherished wild birds, the osprey's story is a fantastic world renowned conservation success that begets life-affirming optimism for other wildlife.
Steve Backshall presents the story and sound of the osprey.