Questions Questions: Can the church bells of drowned villages be heard ringing from the depths? Is it possible to drown nits? Is the earth getting fatter?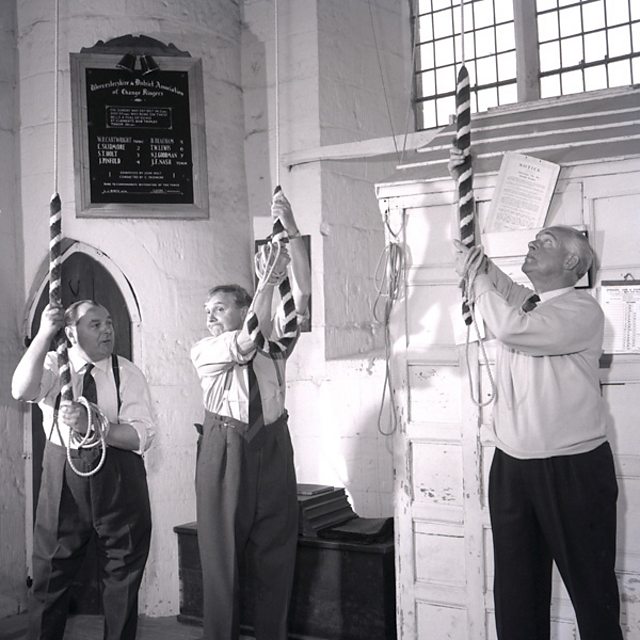 From the BBC picture archive, 1959: "The Archers: Bob Arnold as Tom Forrest, Chris Gittins as Walter Gabriel and Harry Oakes as Dan Archer. Bell ringing is the favourite pastime of many Ambridge characters. "
It was wonderful to be back on the air on Thursday. We featured Mrs Heilwen Goodall's brainteaser about, well, the brain and specifically its ability to recognise one voice from another.
Joyce Janes and Pippa Young had their query aired about collective names for birds, sending us off on a quest to the British Library to find the answer and Stewart unearthed the haunting music of Cornwall's tin mining past.
We've already received fascinating comments in response to our questions: What is a wing wom and have you ever seen a flea circus? But please do keep them coming in.
And we're already onto the next batch of your queries. In the second edition of QQ on Thursday 28 July Stewart will be pondering the rhythmic structure of protest chants across the world; listener Phyll Ward has observed that many chants seem to follow the same pattern regardless of the location of the protest. Why could this be? And we'll be explaining how frogs know exactly what day of the year to spawn.
Our science reporter Dave Dodd is always up for a challenge.This week he's lugging a 100 kilogram bell up to a lake in Yorkshire and back down to Dunwich to meet zero visibility diver Stuart Bacon. Together they'll be getting to the bottom of whether the church bells of drowned villages can be heard ringing from the depths.
The QQ team would like to thank everyone for making us feel at home in our new online spaces on Radio 4 Facebook, on Twitter using #R4QQ, and here on the blog. We're looking forward to including lots more of you in the programme so please do keep getting in touch via those methods or, more directly, using the Contact Us form.
But this is no time to be resting on your investigative laurels - we need your help again to solve these puzzlers (please note that any comments may be read out on the programme):
Question 1: Is the earth getting fatter? Our listener asks: All archaeological sites are beneath the ground - sometimes several feet down. Do they sink into the earth, or does material pile on top of them?

Question 2: Why is County Durham the only county in England to use the form County Durham, which is usually found in Ireland, as in County Cork, County Galway etc.?

Question 3: Is it possible to drown nits?
As well as your thoughts on these points, we, of course, always need your questions.
Please send them to questions.questions@bbc.co.uk, call us on 03700 100 400, or leave them as comments on this blog.
The Questions Questions team