The Feedback listener panel tackles Today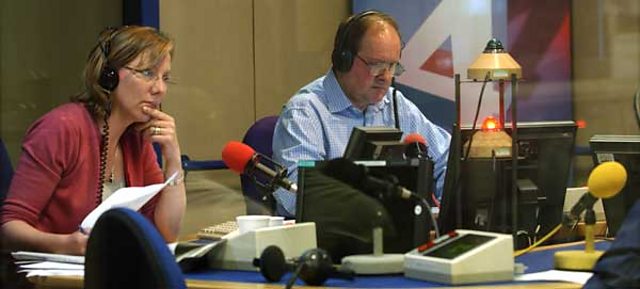 http://www.bbc.co.uk/programmes/b006slnx
Editor's note - we're trying something new. We're going to publish one item from Radio 4's weekly accountability programme Feedback here on the blog. We're keen to know what you think of this new way of spreading the Feedback word: leave your reactions and questions in a comment below - SB
When I first met Ceri Thomas, the Editor of Radio 4's Today after his appointment to the job four years ago, he had a young unlined face.
I wouldn't say he now looks like an old man, e.g. me, but the lines on his face have multiplied I reckon and cut deeper and I think I spy a bit of baggage under his eyes.
That's not surprising given his punishing weekly schedule.
Up before 6am to listen to the programme go out, then into the office for a day's work that ends around midnight when he has read the first editions of the next morning's papers and discusses them with his night editor.
And in between quite a few calls from party politicians and spin doctors trying to influence the agenda, and doubtless the odd visit from a presenter wanting to know whether or not she, or more usually he, will get any of the big party leader interviews to do.
It can only get worse for him in the next few weeks as the general election, which looks like being the closest in almost 20 years, draws closer.
I do hope Ceri Thomas gets an afternoon nap.
He didn't get one on Wednesday when he came into the Feedback studio to answer criticisms from three listeners who consider themselves to be candid friends of his programme.
Kate Francis has listened to Today since Jack de Manio presented it and she was at university. Kate thinks the interviewing styles of Today's presenters are too aggressive and thinks there aren't enough women presenters and reporters on the programme.
Andy McIntyre-Pell thinks some items are too short and would like to see political interviews run longer. He doesn't want to hear any more so-called light items.
Peter Hodder joined our discussion down the line from a Birmingham studio. He thinks the Today programme is sometimes politically biased. I asked him for evidence of this:
Roger Bolton presents Feedback on BBC Radio 4
Feedback listeners Peter Hodder, Kate Francis and Andy McIntyre-Pell are on this week's Feedback with the editor of the Today programme Ceri Thomas. Listen to the whole programme on the Radio 4 web site.
Feedback will be recording more listener panels in the future and if you would like to take part we'll give details here and on the programme in the next few weeks. You can also find out how to join our listener panel on the Feedback web page.
The picture shows Sarah Montague and James Naughtie presenting Today. It's from the BBC's picture library.