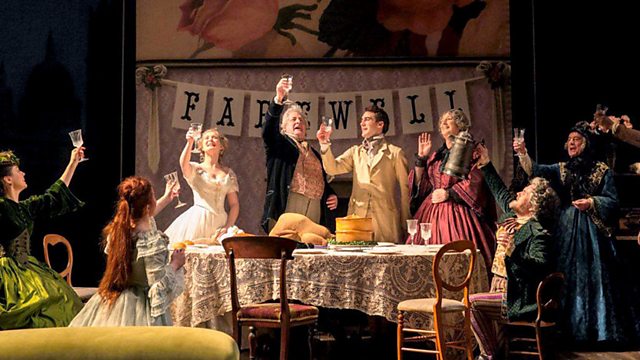 Trelawny of the Wells
If I was to draw up a list of things I hate in the theatre I think good actors pretending to be mediocre ones would be right up at the top of the list. If it's done well there's always a risk of condescension (and it's really difficult to do well). If it's done badly... well it's a kind of double-jeopardy, as fictional bad-acting gets churned together with the real thing. So, on paper at least, I was a bit wary about Trelawny of the Wells, Arthur Wing-Pinero's love-letter to Victorian theatre... which has been refurbished for a contemporary audience by Patrick Marber (he describes his contribution as "ornamentation" in the printed copy of the text). In practice I was won over - though I'm still not entirely sure why. I think it may have been because what we were looking at was not so much mediocre acting (though it's clear that some of Pinero's actors are not exactly top rank) but old-fashioned acting. Like Lolita Chakrabarti's play Red Velvet - which the Tricycle Theatre put on last year - Trelawny of the Wells is interested in a shift in stage fashion from declamatory gestural acting to a more naturalistic style. Marber is too - and he's given one of the characters a good new line to summarise what the new style means - "With great passion but no demonstration of it" says Tom Wrench, a budding playwright as he instructs his colleagues how to play a scene. The question now is whether the same production can get laughs from comic caricature and strong emotion from quiet understatement. That's one of the things we'll be discussing this week - and the novelists Patrick Gale and Aminatta Forna are on the panel along with the writer Natalie Haynes.
Also on the programme another tricky question - how do you make a sitcom out of the work of bomb disposal officers in Afghanistan? Richard Hurst, writer of Secret Diary of a Call Girl and James Cary, who's worked on Miranda are making their way through that particular minefield in Bluestone 42 - an eight part comedy drama for BBC3.
Also on the programme this week Richard Gere tries to make us sympathise with the tribulations of a hedge-fund manager in Arbitrage  (good luck with that one Richard) and we read J.M. Coetzee's new novel The Childhood of Jesus (and if it is about the Childhood of Jesus he's not made it obvious). Oh, and we all know more than we did last week about the Renaissance artist Federico Barocci, subject of a new exhibition at the National Gallery... Not very difficult in my case because last week I knew precisely nothing about Federico Barocci, up to and including his very existence. Hope you can join us for the programme on Saturday...