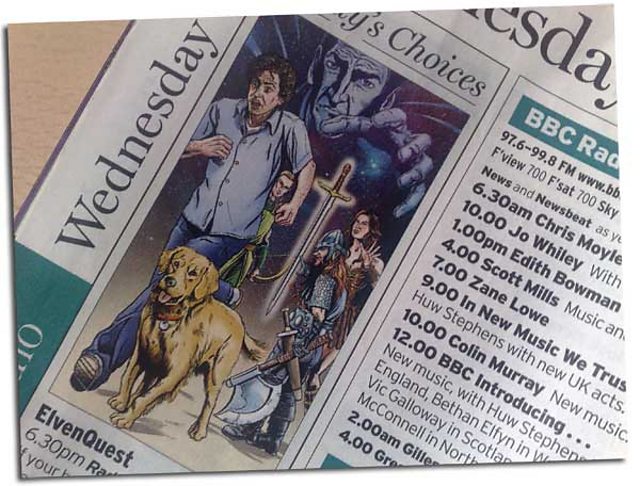 Elvenquest is a new Radio 4 comedy set in the world of fantasy fiction. It's by Anil Gupta and Richard Pinto: British comedy royalty. Gupta produced The Office, Goodness Gracious Me and The Kumars at No. 42. He's also a writer. Pinto wrote for Goodness Gracious Me and The Kumars and co-wrote cheeky comedy animation Bromwell High with Gupta.
Elvenquest is a much-anticipated return to radio for both. The first episode went out last night at 1830 (listen again here). The Twittersphere's verdict is almost universally good and there was some excited anticipation in the build-up. From ninadedrap:
O.M.G. Both Stephen Mangan & Kevin Eldon are in Elvenquest! I'm going to die of glee listening to it
And from faeriequeen:
Mangan fans! 1st episode of ElvenQuest on Weds 29th April, 6.30pm, Radio 4!
After the show, most were positive. Codepilots said:
Elvenquest was great listening can't wait for next week!
and Ian Simon:
Just been listening to "Elvenquest", spoof on Lord of the Rings, on Radio 4. Absolutely superb!
Only one authentically bad review, from GypsumFantastic, who thought it was "utterly utterly dreadful", spoilt the positive reception (search Twitter for more reactions).
Gillian Reynolds in the Telegraph previewed the programme, admiring lead Stephen Mangan in particular:
a wonderful television actor who can do radio very well too (it's a rarer gift than you'd think).
David Thair edits the BBC's Comedy Blog and for his Elvenquest post he's secured a nice interview with writer Anil Gupta. The Comedy blog is on Twitter. The British Comedy Guide's Elvenquest page is typically complete and has links to more press. Naturally, Elvenquest already has a Wikipedia entry, although it's classified as a stub so you might want to chip in and improve it.
Some of the stars have Wikipedia entries of their own: Stephen Mangan, Alistair McGowan, Darren Boyd, Kevin Eldon, Sophie Winkleman and Carrie Quinlan (some of those entries could do with tidying up too, if you've got some time on your hands).
Stephen Mangan is on Twitter. So is Carrie Quinlan.