In Our Time: Crystallography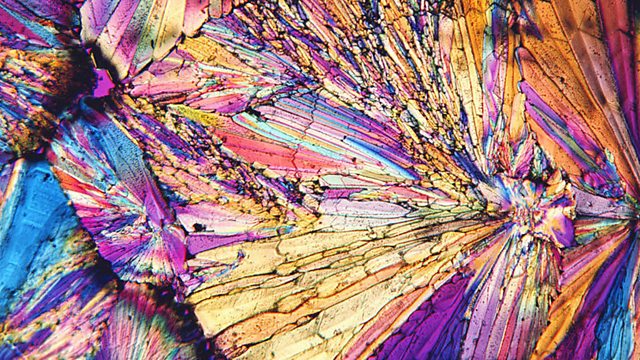 Hello
I'm dictating this on yet another magnificent late autumn/early winter day in London.  Cold, but not too cold.  Perfect weather for walking.
Just had lunch with Mark Lawson who knows all about contemporary culture - across the board - than anybody I have ever met, before his time or at the present day.  We meet twice a year and gossip ferociously and now and then sit back and think about things.
Last Thursday, after I'd done In Our Time, I went to Shepherd's Bush to a music hall there to interview Tim Minchin, the explosive artist from Perth, Australia for a future South Bank Show.  He is an original mixture - stand-up comic, composer, musical performer, satirist, intellectual muser, and now and then a damn-the-lot-of-them.  There's the Pope Song.  That might be difficult to get on air, given that it utters one particular word beginning with mother and ending with expletive deleted more than sixty times.  But we'll see what we can do.
On Sunday there was the unexpected treat of a festival the length of Hampstead High Street.  I was going to a late lunch with my children when we came upon it.  I presume it happens the last Sunday of every November, but this was the first time I'd seen it.  Perfect weather, late afternoon, beginnings of twilight.  A proper funfair at the top of the hill with a big wheel and roundabouts, and a Victorian musical organ and little stalls all the way up where you try to throw ping-pong balls into empty vases (I was so bad that the lady in charge returned some of my ping-pong balls so that I could have another go.  Still no luck.)
There's something about a genial crowd, especially one unexpectedly released into such a usually busy area but now put aside for simple enjoyment, which brings back childhood and books - fairs that you read about in Thomas Hardy and way back.
Next day met Alfie Boe for a programme that we're going to do.  I think I've rarely met someone as open and friendly and willing to get on with the programme that we want to do.
And so to the highlight of the week on Tuesday night which was in a theatre above a pub in London.  The pub is The Landor in the Clapham area and the production was A Winter's Tale (Shakespeare!), directed by Andrew Keates, who last year won an award for the best out-of-West-End production in London, and the music and lyrics were by Howard Goodall.  It was extraordinarily powerful in a room packed on the sixty seats available.  A cast of at least a dozen occupied the small stage area and turned it into an arena of melodrama, brilliant comedy scenes and, as often happens, as Howard Goodall can do so well, emotionally compelling moments.  I've no idea how Andrew Keates gets so much action in such a little space and assembles, at what must be at extremely low cost, a cast of such fine singers and actors.
London at the moment is the flagship of world theatre, with more than a hundred venues to go to and that is not counting The Landor and other pub theatres.  I wouldn't have been at any other theatre in London on Tuesday night.  This is a new musical, just opened, taking on Shakespeare and using the talent that we have to marvellous effect.  And downstairs there's a good old-fashioned pub with proper pub grub.
And so to Cambridge the next day to talk to the Professor of the History of Science about the place of the Cavendish Laboratory and the idea of science in our culture over the last hundred years on a programme that Tom Morris and I are slowly putting together over the weeks.  It's planned to put it out beginning on the morning of December 31st to end the old year and episode two is on January 1st to hail the new.
Best wishes
Melvyn Bragg
PS: I forgot to put in the low point of the week.  Clearly I'd blocked it out.  On Monday I set off to go to Cardiff to speak to a society there about Richard Burton.  Trains were down, advised to take a car.  Took car, set off from London at about half past two.  At six o'clock was east of Reading about twenty miles from where I'd started.  M4 down to one lane, result: misery for thousands.  So it isn't all roses.  On the other hand, did quite a lot of reading in the car.
PPS: Sorry there isn't anything about the programme this week - I forgot my notes!  I'll make up for it next week.