The Radio 4 Christmas Appeal 2011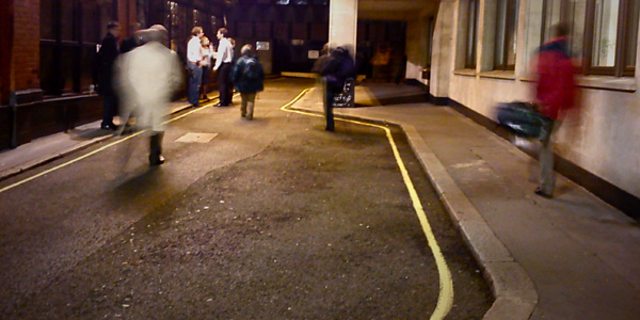 One young homeless woman tells me, when you are on the streets, it is as if the world is going on normally on the other side of the glass and if you could just take one step you could step back into that world.
Another man who was homeless for over 20 years smiles: "That glass looks so thin and fragile but it's very thick."
(Ed's note: You can hear from some of the people helped on this video slideshow - PM)
For the past few weeks I have been gathering stories for this years Radio 4 St Martin-in-the-Fields Christmas Appeal. I laugh with one interviewee as we compare notes on our favourite Radio 4 comedies. He was a project manager in construction, until a series of misfortunes including cancer, and debts left him with no money and no home. Originally from Glasgow he says "At least you won't run into your neighbour when you are 300 miles from home."
Libby Purves and I visit the night centre at The Connection for the report back programme Received with Thanks.
Listening back to the interview with a man who was sleeping there that night, I realise he keeps telling us how cold he gets, how hard it is to get warm, how he never really truly sleeps because he's so cold.
In Cardiff I met a woman who arrived back from hospital with her new baby only to be evicted from her house along with her two older sons and her partner. I joined her as she was given a grant for £250 by the Vicar's Relief Fund to help buy a bed, bedding and a cooker for the temporary accommodation they had just moved into. I was struck by her stoicism:
"I have to stay strong for my boys but it's all a front, deep down it's ripped me apart but if the boys see me upset it will upset them".
She bought a bed to be delivered later that afternoon "you just like to be snug don't you and have a good nights sleep".
The average Vicar's Relief Fund grant is £180 and takes just 3 days to turn around. These are crisis grants, helping to prevent an eviction, secure a tenancy or buy vital household goods. Grants go all over the UK.
The Connection at St Martin-in-the-Fields helps over 200 homeless people a day. They've faced reductions in their statutory funding and the Chief Executive describes last years record Radio 4 Christmas Appeal as a "lifeline".
So I want to thank every donor for every gift however big or small.
I also want to thank all the troubled people who give me their stories with such brutal honesty. The stories will be told through the Radio 4 Programmes Received with Thanks and the Vicar's appeal. They will be on our slideshow on the BBC Bigscreens or the web.
What is great about giving to this appeal is that people are not merely saying they support the charity financially they seem to say "We support what you are doing". It also says they care about the individuals whose stories have been told.
Sally Flatman is producer of The Radio 4 Appeal