Editor's note: Warhorses of Letters starts on Radio 4 this Tuesday 25 October at 11pm. As the Radio Times puts it: "Only on Radio 4 would one find a gay, epistolary romance in which the letter writers are horses". Stephen Fry and Daniel Rigby (who won a BAFTA for his portrayl of Eric Morecambe on BBC2 this year) play the corresponding horses of Napoleon and Wellington. The series is written by Robert Hudson and Marie Phillips, indicated below by the large red arrows, who explain the genesis of Warhorses of Letters - PM.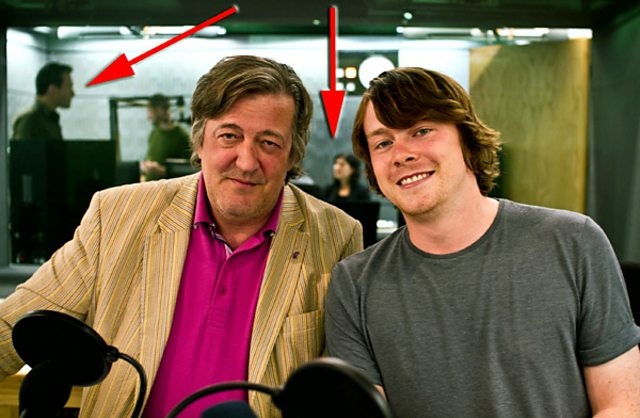 Marie:
I'm super excited that the BBC has asked me to write this blog.
Robbie:
Us.
Marie:
Whatever. When we first had the idea for Warhorses of Letters...
Robbie:
I dispute your use of the word 'we'.
Marie:
Dispute it with my lawyers.
Robbie:
No, you're right, legally the idea is yours as much as it is mine. We had it when I was alone by myself on the platform at Kilburn tube station, when I wrote the first letter onto a page of my notebook, and we ditched the idea as being unworkable an hour later when you told me it wouldn't work.
Marie:
Not fair.
Robbie:
Ok. What's your version?
Marie:
I was there in spirit when you had the idea because I remind you of a horse. Then we both of us together couldn't think of a way to write it. And then a year later I thought of a way to write it. Which, as luck would have it, is a lot like the way we are writing this, although with more research.
Robbie:
Not a lot more research.
Marie:
I wouldn't know, because you never let me hold the book. Anyway, we wrote it, and we performed it...
Robbie:
I dispute your use of the word 'we'.
Marie:
You and John Finnemore performed it at a comedy night called Tall Tales, the crowd went cobnuts, we sent a recording to Gareth Edwards and he picked it up.
Robbie:
Gareth loves talking animals. Obviously I expected to reprise my role as Marengo, but Gareth picked someone else.
Marie:
Stephen Fry is not better than you, he's just different, in a superior way.
Robbie:
That's what my mum says. Joking aside, Warhorses is one of those ideas which is incredibly fun to write - Marie and I take on the horses' personae and we send letters to each other - but that was nothing compared to the fun of hearing Stephen and Daniel Rigby recording the series.
Marie:
I laughed so much I spilt tea down my front.
Robbie:
Basically, I have dreamed since I was even younger than I am now of having a comedy series on Radio 4, because radio can do things that simply can't be done in any other medium.
Marie:
Like Hitchhiker's Guide to the Galaxy. But, like H2G2, it's being turned into a book, and so presumably there will soon be a television series and in twenty years' time a slightly disappointing film, but we won't mind because by then tens of thousands of people will be able to quote from it at length and it will be a seminal part of their childhood.
Robbie:
So, that's it from us. We really hope you enjoy it.
Marie:
I dispute your use of the word 'we'.
Robert Hudson and Marie Phillips wrote Warhorses of Letters