Ed's note: Radio 4's Bookclub is on at 4pm this Sunday 6 May and is repeated on Thursday 10 May at 3.30pm. You can also listen online after broadcast or download the podcast - CM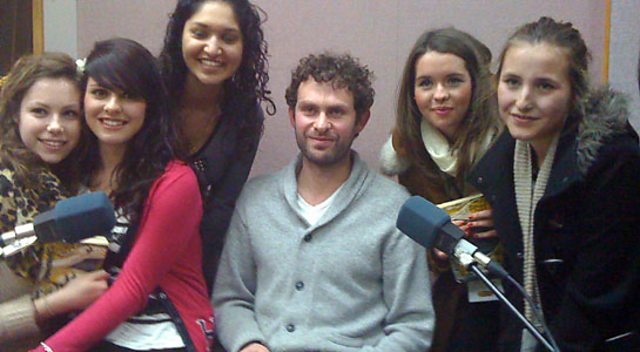 Ross Raisin at the Bookclub recording
I hadn't read Ross Raisin until we chose God's Own Country for this month's Bookclub. I realised after only a few pages why it had caused a stir.
Ross became The Sunday Times Young Writer of the Year 2009 as a result of the book and most readers will understand why. It's difficult for a first-time novelist - particularly of Ross's fairly tender years - to find an authorial voice with confidence. He does. From the moment you encounter Sam Marsdyke, wandering on the North Yorkshire moors, you're quite clear about what kind of journey this is going to be: disturbing and dark and above all irresistible.
Sam is troubled, and difficult to pin down at first. How disturbed is he? Does he speak the truth to us? Only an author who draws a character in confident strokes can carry this off. Sam is a figure that everyone will recognize, but not understand, and Ross is able to keep Sam's ambiguity under perfect control all the way to the end of the story. It is quite a feat.
I couldn't help thinking that he was a very contemporary character. He's got lost somewhere along the way and feels out of touch with the rural community around him, retreating into the depths of a personality that's troubled and unpredictable. "He's a reject. He's disenfranchised. No-one likes him much," Ross told our readers. Yet that remoteness doesn't make him a character you want to forget : you're drawn to him because the nature of his problems is elusive, and the consequence of it gives the book a genuine sense of menace and tension. When we meet him first, he's spying on ramblers up in the hills, and the idea of pursuit and deceit remains until the last page.
I won't give too much away. As with all Bookclubs when we're talking about a plot that deserves protection, we played the game.
The skill with which Ross tells the story of Sam, and the girl at the centre of the story, is unusually well-developed for a young writer. He invented dialect words to enrich the atmosphere, and the writing has a confidence about place and dialogue that's genuinely impressive. I wasn't at all surprised to learn in the course of our conversation that Ross had come under the influence of an inspiring English teacher at school.
"He was fantastic. Did Far from the Madding Crowd with us. He broke the book down and I understood it. I won't name him when I say this but he was into the sexual metaphor and imagery which is Hardy, of course. I'd never thought of that when he pointed it out. He asked if anyone understood the metaphor of shaving off the sheep's wool - and the way they were looking at each other, Bathsheba and Gabriel Oak and I was the one that got it. ' It's 'cos of sex isn't it, sir?'"
A fast learner. Hardy has obviously been a great influence on him, and not only in the way God's Own Country is rooted in a landscape that we come to know intimately. Ross manages to delve with apparent ease under the outward appearances of his characters...much more is hidden than is revealed.
In the second half of the book, there are no indications as to when a thought is being rendered in direct speech. You're left to wonder, and that is part of the mystery surrounding Sam. Do you believe him towards the end of the book? Is he deceiving you, as well as himself? Has he lost his mind?
I should also say, if you're feeling too gloomy to plunge into such a story, that it's very funny, too.
I hope you enjoy our discussion. You will be hearing more of Ross Raisin.
Our next book is Philippa Gregory's novel set in Henry VIII's court, The Other Boleyn Girl, which you can hear on Sunday June 3rd at 4pm. And I should give you notice of two recordings coming up which you may want to come to (details on the website www.bbc.co.uk/programmes/b006s5sf of course) -Michael Ondaatje on The English Patient on June 19th, and Victoria Hislop on The Island on July 10th, both in London.
Happy reading
Jim
Jim Naughtie presents Bookclub