Editor's Note: My Own Shakespeare invites public figures to talk about the piece of Shakespeare that inspires them most.The short programmes will be broadcast across Radio 3 and Radio 4 in May 2012 and be available to download afterwards. Producer Lucy Collingwood has written a blog about the making of My Own Shakepeare - CM.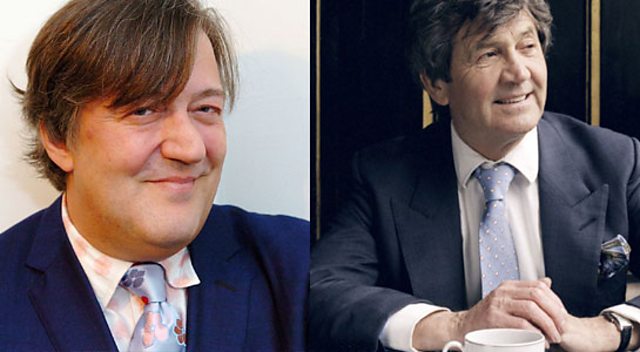 Stephen Fry and Melvyn Bragg are two of the contributors for My Own Shakespeare
Bringing all of the elements for My Own Shakespeare together has been a fairly lengthy but rewarding experience. The series idea has been in the Radio Drama pipeline for some time but our production process started properly in Autumn 2011 when we began approaching potential interviewees.
Once those we approached expressed an interest in being involved, finding a good moment to interview some of the world's busiest people became our next challenge. Armed with a microphone and portable recording equipment (and the Complete Works of Shakespeare in a backpack!), we'd set off to catch individuals between meetings, in quiet corners of offices, kitchens, sitting rooms and other recording studios for a twenty minute conversation about their favourite bit of Shakespeare. We'd ask the simple question which piece of Shakespeare would you save from a burning building? The answers were fascinating.
Our aim was to find out why they were personally drawn to their choices. It became clear that many of our interviewees felt most strongly about the Shakespeare speech or play they'd first come across or learnt about at school. It seems that the Shakespeare experienced as a young and impressionable student stays with you forever. I learned that Margaret Drabble's school play involved a young and talented sixth former, Judi Dench, as one of the leads. Neil MacGregor as the youngest boy in his class was forced (in true Shakespearean style) to play Katherine in Henry V. Shakespeare's words seem to wind themselves into people's heads. I heard several stories of interviewees learning speeches off by heart and recalling them in idle moments. And were there some particularly popular plays amongst all of the choices? Yes. Overall, King Lear and Henry V seem to have come out on top.
After completing the interviews, our next task was to record a company of high profile actors reading the chosen pieces of Shakespeare. And at the same time, we were asked by the Shakespeare's Restless World team if we could record the Shakespeare for their programmes too. The result was a mammoth jigsaw puzzle of a casting exercise where we asked a handful of actors to record with us for a short amount of time and to play a wide variety of different Shakespearean roles! The actors were brilliantly versatile switching from play to play and from hero to villain with hardly enough time to pause for breath. Being in studio listening to Rory Kinnear perform his 'To be, or not to be' soliloquy from Hamlet, to David Warner read Lear's 'we two shall sing like birds o' the cage' speech and Chiwetel Ejiofor tackling 'Once More Unto the Breach...' has to be the highlight of my year so far.
Once all the Shakespeare was recorded, we had yet another challenge ahead of us: to condense all of these fascinating conversations and wonderfully performed scenes into short programmes of approximately 2 and a half minutes. It's taken a lot of listening, editing and re-editing. We've had to be ruthless with what we've chosen to keep but hope that each programme offers insight into each person's choice and through that choice, some small insight into the interviewees themselves.
Lucy Collingwood is a producer for BBC Radio drama