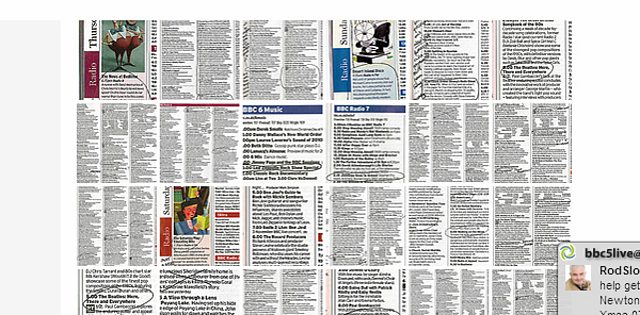 It went like this. I called the nice people in the Radio Times press office and asked if I might have a pile of Christmas double issues for a special project on the blog. They arrived in the internal post the following day and I started sending them out to important Radio 4 people. A handful weren't able to join in - they were on holiday already or recording in remote parts - but ten agreed to help me out and, once they'd received their copies of the magazine, enthusiastically circled their Christmas listening directly onto the pages of the radio section (you can't miss it, it's right at the back). Some added notes (and Fi Glover did the whole thing using blue sticky notes).
You can see all the pages on Flickr. I haven't counted them properly but there are at least 300 selections from the Radio 4 Christmas schedule plus a few from the other networks. It's a genuinely fascinating selection and a real insight into the holiday habits of Radio 4 Royalty. And in many cases you can click right through from the cutting to the programme's page on the Radio 4 web site - handy if you'd like to listen again to the ones that have already gone out. You can also add your own comments or notes to their selections. Here are some highlights, with links to the scribbles themselves:
Please feel free to add your own notes and comments to the pages on Flickr, or as comments here on the blog. And if you're on Twitter, tell the world what you're listening to on Radio 4 over Christmas and the New Year using the hashtag #MyXmasOn4. Happy Christmas!
Steve Bowbrick is editor of the Radio 4 blog