Editor's note: Listen in to Saturday Review from 19:15 on 16 February to find out more about the RSC performance of Brecht's Life of Galileo at Stratford.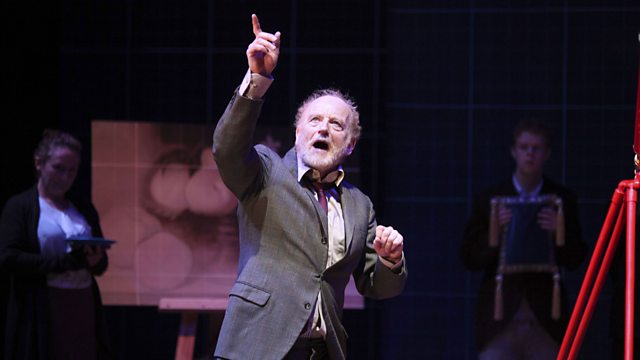 Brecht - A Life of Galileo RSC
Between last Saturday evening's performance of Brecht's Life of Galileo at Stratford (in a new production rather pointedly called A Life of Galileo) and the one we saw on Tuesday night quite a lot had changed.
I didn't see both performances and I don't think there had been panicky last minute cuts or alterations to Mark Ravenhill's new production. It looked in pretty good shape to me. But on Monday Pope Benedict XVI resigned, and suddenly, questions of papal authority, the conservatism of the Roman Catholic church and the consequences of an unexpected succession had an immediacy they hadn't had a few days earlier.
It was a little odd really - a history play about a controversy 450 years old suddenly giving an extra resonance to a story only a day old…

We have slightly more recent history in our novel this week; Maggie O'Farrell's Instructions For a Heatwave, set in the blistering summer of 1976, and facing the slightly tricky problem - in an icy February - of making unbroken sunshine sound mildly unpleasant.
We're also going to review the radio broadcast of V, Tony Harrison's controversial poem, triggered by the vandalising of his parents' gravestones in a Leeds' cemetery. An interesting one for me personally because one of the interesting moments in the early days of The Independent was the decision to print the entire text, one of the more terrifying proof-reading exercises I had as arts editor on the paper. In my memory the thought of letting a typo through unseen made me sweat more than the summer of 76.
It's not exactly a vintage week as far as cinema releases go, so we've settled for Side By Side, Christopher Kenneally's documentary about the fall of celluloid and the rise of digital film, a subject that can make directors very passionate indeed. It has a pretty impressive cast list, including David Fincher, David Lynch, Martin Scorsese and Steven Soderbergh, all sharing their views on how technology affects the finished product with Keanu Reeves, who turns out to make a reasonably creditable interviewer.
I'd be curious to know from listeners whether the celluloid versus digital debate is one they feel strongly about -- or is this more a theological dispute for the makers of movies rather than those who mostly watch them?  Kevin Jackson, Bidisha and Kit Davis are discussing all this for us. Hope you can join us.