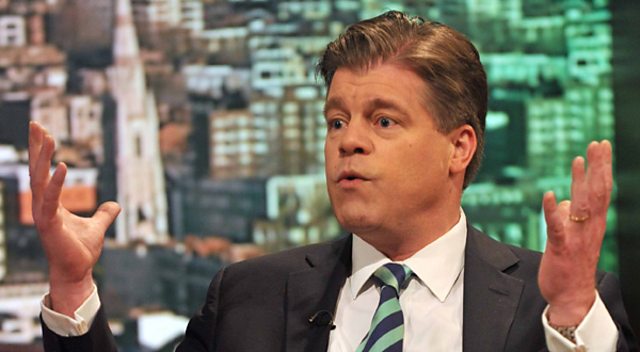 Editor's update: There are some great pictures and a summary of the discussions from the first programme in this series of Leader Conference on the website - PM.
Tonight Andrew Rawnsley chairs the first of four live studio debates called Leader Conference. The programmes will follow the format of the main daily editorial meeting that takes places at many of Britain's leading newspapers, known as the leader conference. It's where the senior journalists get together to argue about the editorials which the paper will publish the next day are going to say - whether it's a Times leader or what The Sun Says.
Leading articles are one of the most important features of any newspaper's pages. Yet how they come to be written remains essentially a mystery to all but the participants.
We aim to cast light on that process over the coming weeks. But this is also debate to a purpose. As with most newspapers, we're going to talk about three subjects in the news which we think are important. Often - but not always - one topic will be domestic, one international and one will look at the news in a lighter vein. At the end of each discussion one of the journalists will be invited by Andrew, in his role as editor of what we might call The Daily Rawnsley - to summarise what the leading article will say―and why.
Over the coming weeks, Andrew will be joined by top figures from across Britain's newspaper industry. These will include writers from the tabloids and the broadsheet papers, from London titles and those based in other parts of the UK, from those with a right-of-centre political perspective and those with a left-of-centre one.
The Daily Rawnsley has no allegiances. Its readership is the Radio 4 audience and what matters in Leader Conference is the persuasiveness of the arguments that are made not the force with which they are put. That is the essence of live discussion - but here there is a premium on resolution of the debate to reach a settled view on the issues.
One thing this series won't be is a dour survey of tired old opinions. Andrew Rawnsley will present an entertaining, often amusing and always lively programme - helped, we hope, by Radio 4 listeners. We'd like your views on what our leaders should be saying. You can e-mail us at: leader@bbc.co.uk or join us on Twitter at #Radio4.
So, let the debate commence...
Hugh Levinson is an editor in BBC Radio Current Affairs