Rocking and rolling on The Reunion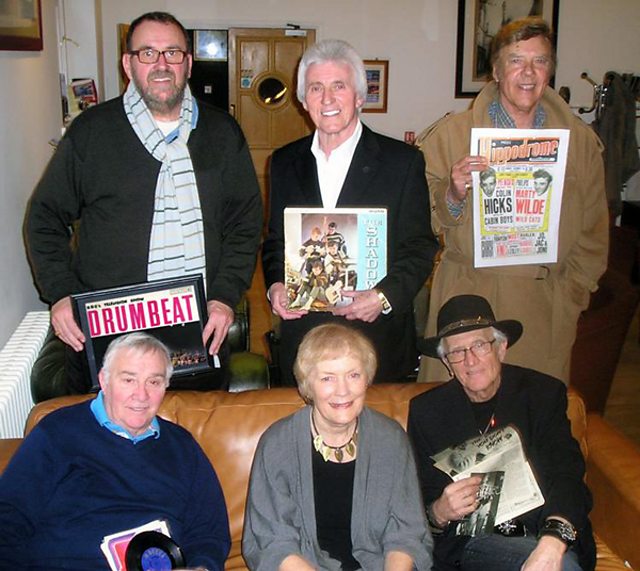 We recognised Marty Wilde first. He was the tall one with the full head of hair dressed in a camel coat. Vince Eager came next, a man who once quaked the nation with the soda pop fuelled Buzz, Buzz. Buzz. Then came the drummer who has quite possibly played on more No 1's than any other man alive, Clem Cattini. Bruce Welch of The Shadows, recovering from a recent heart op, had immaculately suited and booted for the occasion and last was Terry Dene, the man who was every girl's pin up as the face of innocence in 1957.
Every edition of Radio 4's The Reunion is different with its own rhythms and dynamics. Some are tense and frosty, laced with simmering resentment, others bemused and befuddled. Reunion Number 76 promises it all and more. The fifties rockers are quickly into their groove in the green room, joshing as they probably did at the 2i's coffee bar in the years before the sixties started "swinging".
Sue MacGregor arrives after some last minute studio prep. She makes sure everyone feels equally greeted and well met. It's a critical moment. If we linger too long, they'll start blowing the bonhomie before we've got them in the studio. Not enough time to re-bond, and they'll freeze when we start recording. I look at Sue, she looks at me, and just as we reach the tipping point, we whisk them in in.
Co-producer Brian McCluskey has spent weeks cajoling and reassuring them all. Along the way he's been checking facts, focussing hazy memories and digging up obscure pieces of archive to give shape to their story.
Green light, and all is quickly well. Bruce recalls the thrill of arriving in London from Newcastle with his bespectacled chum Hank Marvin and "just deciding not to go home". Vince is more pragmatic. It wasn't the music at the 2is, "it was the girls that were the draw". We have to tell Clem to stop tapping his fingers on the studio table top. "Bloody drummers" says Bruce.
We end an archive sequence with a 1961 clip of Marty Wilde's Mum talking about the pride of seeing her boy on stage. Straight back to the studio, and for one poignant moment, Marty's lost for words. Terry recalls in frank detail his breakdown during National Service, he's still angry at the military management who left him broken. Clem talks about the pride of being in the first British group to top the American charts (Telstar by The Tornados). Bruce bristles (The Shads never made it to number one in the U.S. and Clem knows it!)
They recall characters as if it were yesterday. Sue mentions Larry Parnes, the pop Svengali of the day, and they all start. He gave them all character names: "Wilde, Eager, Fury", even put them up at his flat in Knightsbridge. Marty admired his chutzpah, recalling the publicity scams he used to pull. Vince tells a ripe (possibly too ripe for Radio 4) story about his bedroom proclivities which ends with the punchline "I might be called Eager, but I'm not desperate".
The end of their era at the top came too soon. The Beatles arrived in 1962, and everything changed. But there's no bitterness from our boys. These were their glory days. Sue asks them to pick a play-out song, and they've all settled on Billy Fury's Maybe Tomorrow. It was almost made to be.
David Prest is Series Producer of The Reunion
Listen to The Reunion: 50s Rockers at 1115 this morning or, for seven days after that, on the Radio 4 web site.
The picture shows, left-to-right, top: Vince Eager, Bruce Welch, Marty Wilde; bottom: Clem Cattini, Sue MacGregor, Terry Dene.
Since the beginning, David has taken a photo at every recording. Pictures taken up to 2009 are on Flickr.