Christmas Puddings for the Christmas Appeal
Editor's note: In this blog post, Catherine and Susanna Jamieson talk about their unusual method of raising money for the Radio 4 Christmas Appeal. The 2012 Radio 4 Christmas Appeal is broadcast on Sunday 2nd December. You can listen to the programme or donate money online. -CM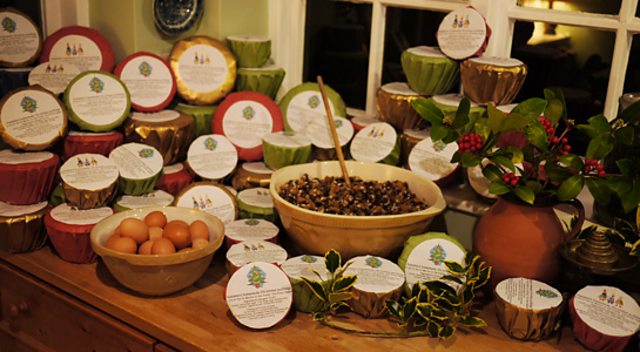 Catherine and Susanna Jamieson's Christmas puddings
We are fortunate enough to have somewhere to live, which is one of the reasons why we support the St Martin-in-the-Fields Christmas Appeal by making and selling Christmas puddings. When we were trying to decide which good cause to support with our Christmas pudding business a few years ago there just seemed to be something very appropriate about using the money raised by the sale of good Christmas food to help those who have so little to enjoy at Christmas.
So, it all kicks off in September, when we bulk buy pudding basins, sacks of sugar, dried fruit and vegetable suet, and what checkout people in the supermarkets obviously think (but don't ever say) is an excessive number of bottles of brandy!
Then aprons are donned and the weighing, mixing (all done by hand!) and cooking begins. The puddings are made in batches of five, ten or twenty - depending on size - and the work surface is usually home to puddings in a variety of stages: the mixture steeping in the mixing bowl, puddings waiting to be cooked, puddings cooling, puddings waiting to be wrapped. As the numbers build up (and we make between 250 and 300 each year) one or two of the bedrooms are gradually taken over with boxes and puddings - good use of empty rooms with children away at university, but it does create difficulties when we have visitors!
Orders start coming in before we have even started making puddings, mostly via a network of family, friends and colleagues, some of whom act as (very successful) agents, getting in more orders. We also sell the puddings locally in a wholefood shop, and at church and school events. But puddings have been taken far and wide, getting to Europe, Australia, and North and South America, and this year a very tiny pudding is going trekking in Nepal!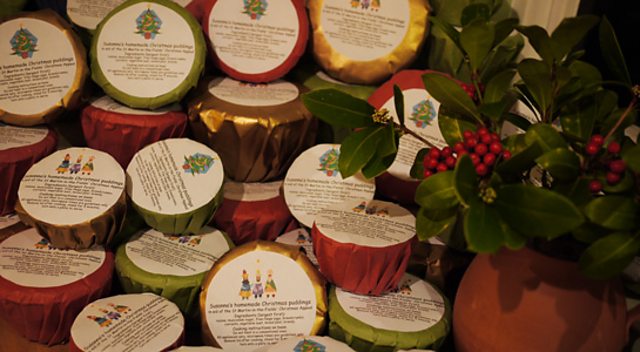 Catherine and Susanna Jamieson's Christmas puddings
Over the years we have raised over £4500 for the Appeal, so by the time we hang up our aprons this year (probably not until the weekend before Christmas since there are always a few last minute orders) we should easily top £5000. We love making puddings (which is a good thing!) and we like to think that the money we raise makes a bit of difference to some people whose lives have not been as easy as ours.
Catherine and Susanna Jamieson raise money for the Radio 4 Christmas Appeal. Many thanks to Catherine and Susanna from Radio 4!
Listen to the Radio 4 Christmas Appeal and donate online.
Hear Phillip's story of homelessness in our audio slideshows.