Radio 4 Extra: Arthur Smith's Slippers Speak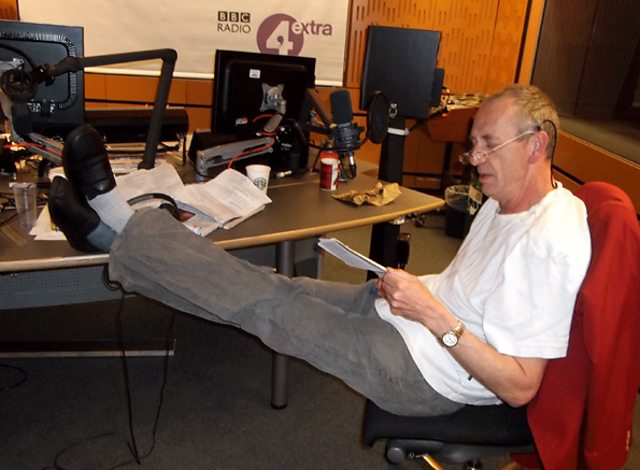 Good day to you.
A year ago we were sitting in a shop in Crewe as we had been doing for several weeks, when a man came in, bought us for £7.99 and took us down South to Balham in London.
We are Arthur Smith's slippers.
We are not his best pair - they are thicker and more luxurious but are snobbish and suffer from agoraphobia since they never leave the house.
We two - otherwise known as Comfy Left and Lounge-around Right - spent many months lying around hotel rooms all over the country while Arthur did shows at the local theatres.
He tucked his toes into us at night before he went to bed. It was tough since we were often squashed into a bag the next day with his socks and pants. Now though, we have our own home called Studio 40D.
Studio 40D is where Arthur records the Radio 4 Extra Comedy Club, and it's great because we get to listen to contemporary radio comedy and loads of different comedians chatting or doing songs.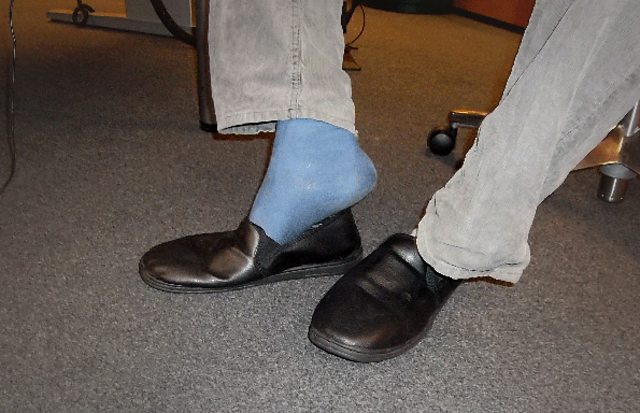 When Arthur is away, we sit in the studio. We take care not to trip anyone up, in case the Health and Safety Officer has us evicted from the building. Some visitors do not seem to like us but once, Andi Osho tried us on when no-one was looking. We enjoyed that.
We hope to stick around here a while. We may start a Facebook page, or go on Twitter.
We know we are not a grand pair - there's no sheepskin lining or suede on our soles - but we do our job honestly and never complain, even when Arthur wears odd socks or spills coffee on us as he always does. We are happy slippers, and we enjoy being entertained by the Radio 4Extra Comedy Club.
Arthur Smith's Slippers live in Studio 40D
The Comedy Club runs six nights a week from 10pm-midnight. Arthur Smith presents Monday to Thursday. Andi Osho hosts Sunday nights. Each Friday there's a guest presenter, this week it's Seann Walsh.
To hear past interviews with the likes of Alexei Sayle and Shappi Khorsandi go to the Comedy Club on the website