Lives in a Landscape: The Hackney Riots
Editor's note: Lives in a Landscape returns on Monday at 11am with the story of Siva Kandiah, a shopkeeper in the heart of Hackney whose life was turned upside down by the August riots. While the community may have rallied around Siva programme producer Sara Jane Hall wonders what the long term effect on the area might be - PM. Update: The programme is now available to listen to online.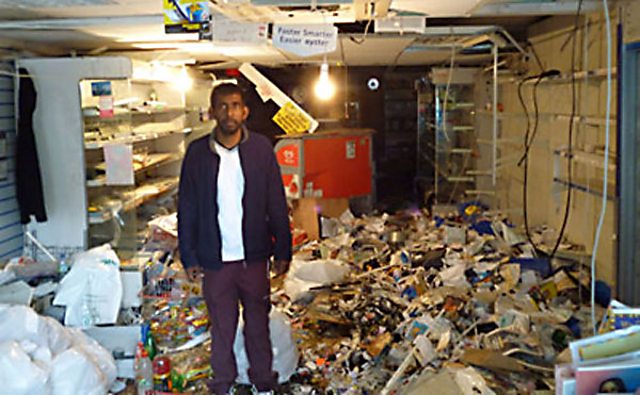 Siva Kandiah in his looted shop. Picture by Marcus Mitchell
Never have I been so glad to be in radio, not television.
Presenter Alan Dein and I were recording an interview in Hackney - with a man who had been forced to throw his SLR camera to a baying mob from the balcony of his flat - less than 48 hours after the riots.
Over Alan's shoulder I noticed a TV crew creeping along the street, looking frankly terrified whilst carrying a large camera and a boom microphone.
We, on the other hand, had two clip microphones attached to a shoulder bag and another microphone stuffed in my pocket. A few mic bumps maybe, but safely hidden from view.
Was there a genuine risk still on the streets?
It was still tense. Minutes earlier ten full police vans, each with siren screaming, had passed us by. The street fell silent afterwards - you could even hear the birds - ironic since 'Hackney birdsong' is the local nickname for sirens.
Lives in A Landscape, the series Alan presents, has often covered stories across the UK that don't make it into the news - golfers who play next to the nuclear reprocessing plant at Sellafield, fire-breathing strippers, rat catchers, and that sort of thing... but this time, there was a determination to find out about the people affected directly by the rioting on August 8th this year.
Of course the news was full of stories and photos, and fears, but we wanted to try and get a bit closer to the subject, and to go back the following day, the day after that, the week after that and month later.
Siva Kandiah, the Tamil shopkeeper in Clarence Road, became something of a cause célèbre across the UK media. No one could see his tears after the attack on his shop, or the photograph of him standing in it, without being shocked.
To be there in person was worse. I can still remember the smell created by the whirlwind of destructive behaviour, and the sound of Alan walking through a sludge of devastation. How could this ever be put right?
But what came out of that day was in many ways inspiring, as local people got together to create a fund to rebuild the un-insured shop; giving him first hope, then a huge cheque, and a singular sense that he was actually loved by so many people.
Many people seemed to be shell-shocked by that night's events; but nearly everyone we spoke to remained defensive of the place they lived, and clearly wanted to do their part in putting things right. The HELP SIVA fundraising website was swiftly created by neighbours; the Hackney Homemade market in the churchyard donated their profits for the week; strangers on the street came up to Siva and thrust £20 notes into his hand.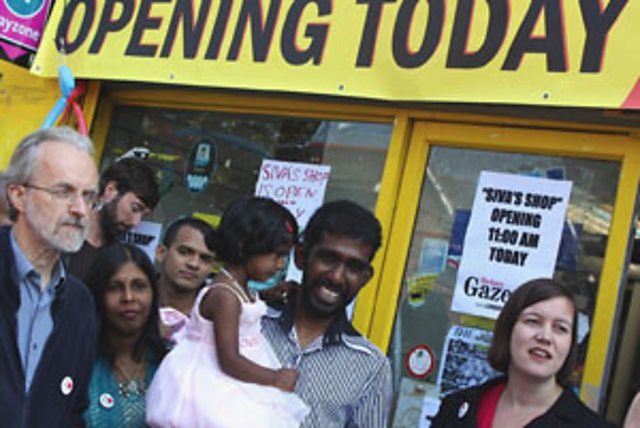 The reopening of Siva Kandiah's shop. Picture by Tony Pletts
Within 10 days the shop had reopened. There were times, Siva told us, when he had felt like news fodder, embarrassed to be famous in such a way, but he also realised his tears had unwittingly helped his cause.
Over the next month a truck load of manure was delivered from the local council, and volunteers from a bank helped shovel it, alongside locals, onto the estate allotment; a tea party for reconciliation was held, with cakes donated by a local chain store; TV crews and the international press had been... and gone.
Siva's shop looked better than ever. Under the surface things were different though. It didn't take long to find a local Caribbean restaurant where the proprietor was quietly throwing away the food she had cooked for absent diners; the area was dead, she said, she had no idea how she was going to make the rent.
So we ate there - it was the least we could do.
Sara Jane Hall is senior producer, Documentaries