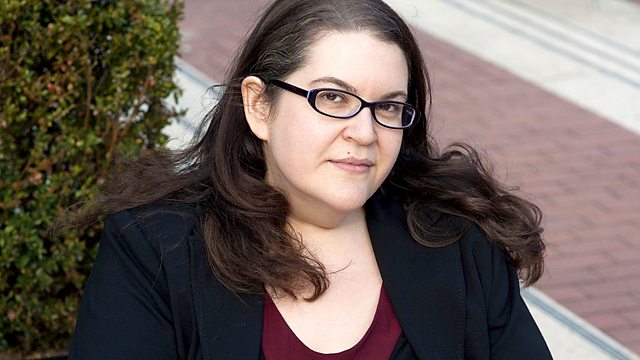 I said to Naomi Alderman that I never thought I'd read in a novel the sentence, 'Last night I dreamed I flew over Hendon'. But there it is, in her first (prize-winning) book Disobedience, and it brings you the flavour of the story. The sentence goes on, 'The wind was around me, above and below and filling my lungs and beneath me Hendon was spread out.' Some of Naomi's favourite writers play with fantasy – she's always loved Douglas Adams and Neil Gaiman, for example – and the book is full of flights of fancy, in this case over Hendon. And down below, spread over north London, is the Orthodox Jewish community in which she grew up – the setting for a story of faith and loss, reassurance and doubt.
Naomi Alderman at Bookclub
Ronit is a woman who now lives in New York and whom we meet at the moment in the novel when she's preparing to come home for the funeral of her father, a rabbi in London. For most of her readers, unfamiliar with the details of Orthodox ritual, the world that opens up is unfamiliar, and maybe strange in its adherence to the old ways (her description of the preparation of the body for burial has a hypnotic quality). But that feeling of distance is also embedded in the novel. Ronit's journey is one that reveals the strains of a woman who has become involved in an extra-marital affair in New York and returns to her family's community to discover that she's on the receiving end of another piece of 'disobedience' – the affections of the new rabbi's wife, Esti, who has always been attracted to her and whose suppressed lust becomes one of the themes of the book.

It's a funny story, but sharp in its dissection of the cross-currents flowing through the families we meet as Ronit's journey continues. The strength of Disobedience is that it refuses to produce easy answers. Readers will understand the position of people who can't change their ways without abandoning the tradition in which they grew up, even while they may regret the pressures placed on those who are trying to get out, or have left. Each chapter begins with a passage of religious text, reflecting Naomi's own continuing interest in the practice about which she is ambiguous – she describes herself as 'used-to-be Orthodox' – and no reader will feel that the book is a crude attack or a cry of pain from someone who is disillusioned. It's tough, but sympathetic. Did it cause her trouble at home?

'There was an interestingly mixed reaction. I do remember going back into synagogue after the book had been published and feeling a bit naked and a bit afraid. I would say, overall, it's made me more friends than it's lost me.'

But she told our Bookclub readers that there was an understandable fear at work. 'In a post Holocaust world people are terrified that if we reveal anything about the Jewish community, if we talk about the weirdnesses, the things that seem eccentric or even bizarre, it will instantly make people hate us. There will be pogroms and riots. My view was that that would not happen, but the community were a bit freaked out by it.'

It's therefore a brave book, taking us into territory that some writers would want to avoid. Naomi was an enlivening guide to her book – revealing the subtlety of her own relationship with her faith – and never finishing an answer without a little laugh. We had a ball.

I thought she summed up Disobedience in one sentence. 'It's a discussion with myself, this book.'

Our next Bookclub is with the great Irish novelist John Banville, talking about his Man Booker Prize winning title The Sea, on April 6 at 4pm, and the next recording will be with Sadie Jones, talking about her novel The Outcast.

Let us know if you'd like to take part in the programme with Sadie Jones.
And happy reading.

Jim
Radio 4 and 4 Extra Books Newsletter
The BBC is not responsible for the content of external websites