Feedback: BBC Jubilee Coverage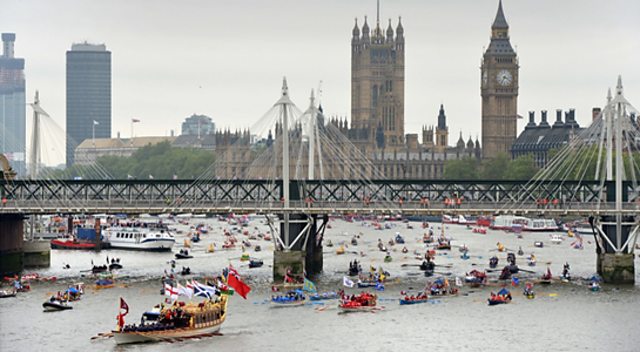 Thames flotilla for the Queen's Diamond Jubilee
Sixty years ago it was relatively simple...
BBC television had no competition (ITV would not start until 1955, BBC2 began in 1964 Channel 4 not until 1982, Sky in 1990 and Channel 5 in 1997)). Once the permission of the Abbey was obtained and Richard Dimbleby, the "Gold Microphone in Waiting", safely booked, the Coronation coverage was relatively plain sailing.
The BBC was the "voice of the nation" and on Royal occasions unquestionably Royalist. (It was the first television event I watched, indeed the reason my father bought the black and white 12 inch set before which we crouched in awed attention. In front of it was a large magnifying glass, to enlarge the picture, but which also enlarged the noses of the Royal family.
All the relatives crowded in to our front room, which otherwise was only used for visits by the Vicar, and was kept spotless. The day ended, as I remember, with the lighting of beacons, which we, in Carlisle, could not see because of the rain and wind. The weather hasn't changed that much evidently.
The coverage of the Diamond Jubilee celebrations presented rather more complex problems. For a start, the question of whether and how to reflect the views of the 13per cent or so who say they are republicans. Then what should be the tone of the coverage? The Corporation decided that a different one was required for the River Pageant than for the other events, and has received some pretty stinging criticism for not just the tone, but also for the quality and accuracy of the coverage.
There was also criticism of the lack of coverage of the Pageant on Radio 4.
Overall the BBC's coverage seems to have been regarded as a triumph, with massive audiences, great audience appreciation and slick, seamless production, but something seems to have gone wrong when it came to that Pageant.
This is how we dealt with the concerns on Feedback
Roger Bolton
Roger Bolton presents Feedback