Ed's note: In this month's Bookclub, recorded at the Cavern in Liverpool, Hunter Davies talks to Jim Naughtie and readers about his biography of The Beatles, first published in 1968. On the blog Jim reflects on his own failure to see the Beatles and Hunter Davies' recollections of them. You can listen to this episode of Bookclub online, download the podcast or it's repeated this Thursday, 5 January at 3.30pm on BBC Radio 4 - PM.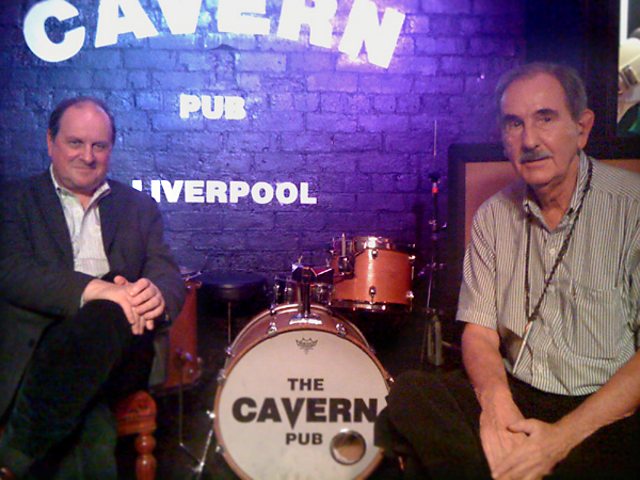 Jim Naughtie and Hunter Davies at Bookclub
I could have seen The Beatles, but didn't.
I was 12 at the time, at home in north-east Scotland, and they were playing in our local town. The date of the gig was January 2, and it was a white-out. Their plane from Hamburg had been diverted by weather and the snowed-up roads meant they just couldn't make it to the Longmore Hall, Keith, in time. As a result their first tour of 1963 began the next night in The Two Red Shoes, Elgin, a place I subsequently came to know as a haven of mild debauchery. They were described as "The Love Me Do Boys" and were supported by the Alex Sutherland Sextet, a local band that I suppose were Elgin's equivalent of Joe Loss and his orchestra.
So I missed my chance. The truth is that I was just a few months too young - a year later and I would have been trudging through the snow to the Longmore Hall - and the fact that they were playing had passed me by. She Loves You hadn't yet catapulted them into the stratosphere.
But such memories swam back when I went down the alleyway in Liverpool that is Mathew Street, site of the Cavern Pub, where Hunter Davies came to talk about his book The Beatles with this month's group of readers - a group, I may say, who strangely seemed to be about my own age.
We had a good time, surrounded by posters on the walls that took us all back to the days when Gerry and the Pacemakers and The Searchers were vying for top billing, and The Beatles might turn up on a Sunday night just for fun.
Hunter remains the group's only authorised biographer, having spent eighteen months or so with them from 1966 - the year in which they played their last tour gig in Candlestick Park, San Francisco - and we reflected on how brief and extraordinary the phenomenon had been. When he persuaded them to agree to let him hang around - he'd met Paul McCartney in the hope that he might write some film music for an adaptation of a novel he'd written - the conventions of fame that we've come to accept as normal hadn't kicked in. There was no template from which they could learn how to handle it: no-one had seen screaming hordes of girls camped outside theatres in that way before, and no bunch of Liverpool boys had ever found their lives quite so transformed so quickly. Hunter's own account to us reflected that air of innocence that still surrounded them, even as they wrestled with worldwide fame.
He described for us his unravelling of the characters - the quiet, thoughtful George, who was always searching for something and even then wanted to escape, the book- devouring Lennon (who'd grown up with Alice in Wonderland, Robert Louis Stevenson and Just William), the prolific tunesmith Paul and Ringo - "the luckiest man alive".
There were long nights in the Abbey Road studios, where Hunter swept up scraps of paper after day and night recording sessions and years later discovered they were more valuable than his house. (It should be recorded that he has given them to the British Library.)
It's a story that hasn't lost its appeal after 45 years - and is in print again in paperback, with a reflective introduction by Hunter - and catches the spirit of an age in which class barriers were being attacked, assumptions about fame were changing, and a youth culture had been let out of its box.
Above all, Hunter was talking about characters whom we've all known, it seems all our lives - the boys themselves, and Brian Epstein, John's Aunt Mimi, Yoko Ono, and of course the Maharishi, who lured them to the Himalayas.
He tells the story well, remembering the bust up with John when he described the book as "a whitewash", to Hunter's fury. Hunter tried to protect Aunt Mimi, by cleaning up some of the stories of their off-stage antics, and had concealed (thinly) the obvious fact that Epstein was gay, and therefore still on the wrong side of the law. But he remembers so many good times too, on the road and in the studio, where he had a ringside seat at one of the great sixties' parties.
It's an enthralling conversation for New Year's Day, with a good dollop of nostalgia mixed in. I left Liverpool wondering why it was that I hadn't made it to Elgin to hear them. What a miss: but I don't think my parents would have understood. It hadn't quite happened. A few months later...well, that would have been a different story.
Happy days.
Our next recording is with Anne Enright, and we'll be talking about her Man Booker prize winning novel The Gathering. That's on Tuesday 27 March at BBC Bush House in Central London at 5.45pm. Tickets are free and available via our website.
Our next programme on air, on Sunday, February 5, is with Art Spiegelman, 25 years on from his ground-breaking graphic novel about the holocaust, Maus.
Happy New Year and happy reading
Jim Naughtie presents Bookclub