Editor's note: In Thursday's programme Melvyn Bragg and his guests discussed the eye. As always the programme is available to listen to online or to download and keep.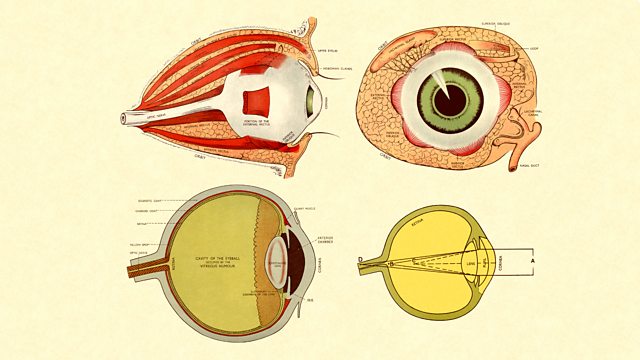 We were told that children learn to see by touch. So they begin by holding objects before they see and can discern objects. The blind child who regained his sight could not distinguish shapes and objects. For instance, he couldn't distinguish between a dog and a cat until he picked up the cat and found that it was furry. On the other hand, the experiments are still going on with totally blind people. The evidence so far has come from children who were blinded by cataracts and had a tiny bit of sight or had gone blind. What happens with people who have been blind from birth?
The whole business of colour is fascinating. As Will Ayliffe said in the programme, colour doesn't exist in the real world. What has happened is that our brain has found a way to distinguish these wavelengths, one from the other, with bewildering subtlety. No wonder that physicists call the brain the most complicated thing in the universe.
It's interesting that Newton, who found out so much about colour, did not set out to find anything at all about colour, but just to explore white light. But by doing two experiments with his prisms – one with white light and one with a separate colour – he transformed utterly the perception of where colour came from.
Been a busy time. Went to a place called the Tabernacle in Notting Hill Gate. A big hall in Powis Square (where David Hockney used to live). One of the things that happens there is called 5x15; that is to say, five people talk about their books for fifteen minutes. We are given an hourglass with fifteen minutes' worth of sand in it. Makes the whole thing rather communal and medieval. Mike Figgis, the film director, told the story of his quest in Hollywood to sell his first film, which began with a doomed walk from his hotel somewhere in the middle of the Pacific Ocean to the headquarters, way, way down Sunset Boulevard, of the great film Mogul. It was a film in itself.
Hampstead Heath – magnificent in the fine winter weather. In some ways it has advantages. You can see through the trees to other trees. There's a beauty about the bareness. It's like looking at a skeleton. There's a field that is often full of rooks. The other morning it was full of pigeons. Why did black turn into white?
At the LSE the other night to talk about Alzheimer's with academics from Nottingham and Bradford universities. They were discussing their different approaches to it; theirs in case studies, mine in a work of fiction. The place was very full. The films that were shown of people with Alzheimer's were moving but also optimistic. So much is going on in this country if we just scratch the surface.
I think I've taken up too much of Ingrid's (who's typing this) time and I'm off to pound round St James's Park while the sun still shines before the promised rain, and then off to see Peter Gill's play about Versailles. He's a wonderful writer who's gone his own way for thirty or forty years. Never written a bad play. Never written anything less than deeply thoughtful.  Rarely, if ever, had a hit with his own work, although the trilogy he did on D H Lawrence's plays was sensational many, many years ago at the Royal Court.
Best wishes
Melvyn Bragg
PS: Also managed to see Happy Days with Juliet Stevenson at the Young Vic which is still in such tremendous form. It reminded me of listening to Edgar, an outcast in King Lear, which I was also lucky enough to see as we're making a programme on Lear.  And it seems that Beckett may have learned a great deal from Edgar's apparent incoherence, inconsequentiality and rapidity of his juxtaposition.  I hope somebody's writing a plain speaking thesis on this.
Download this episode to keep from the In Our Time podcast page
Visit the In Our Time website
Follow Radio 4 on Twitter and Facebook